Subscribe to our e-newsletter

Click on the link below to subscribe to our weekly electronic newsletter!
https://antiracist.us8.list-manage.com/subscribe?u=6b270131f831ed268a302e495&id=f046ea0b51
Anti-Racist Action-Los Angeles/People Against Racist Terror (ARA-LA/PART) is starting an e-mail newsletter. As conditions of physical distancing due to COVID-19 continue, physical distribution of our print edition has become well-nigh impossible. So to keep in touch, we are launching a weekly newsletter.
Subscribe to this newsletter today. It's free!
You'll get updates on anti-racist and anti-fascist developments and emerging forms of solidarity, resistance and liberation
Analysis from an anti-capitalist, anti-colonial perspective
News reports from behind prison walls and from front line struggles
In your inbox about once a week
And email us with your responses and pointers to important news & views!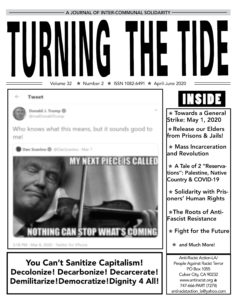 No need to wait three months for the next quarterly print edition —
you can get your up-to-the-minute digital fix delivered to your email inbox every week!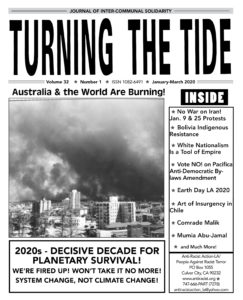 Volume 32 #1 in January 2020 marked the beginning of our 32md year of publication.
TTT has been coming out at least quarterly since 1988, and we don't intend to stop, because most of of our nearly 2000 prisoner subscribers can't get Internet access. But we hope that digital subscribers outside prison walls will get motivated to support our print publication, so we can step up its frequency to 5 or 6 times a year.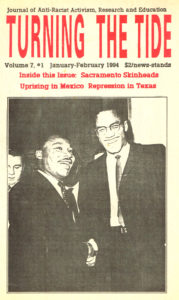 Volume 7 #1 appeared in January 1994
Our first issue, shown below, was a 2-sided 8.5×14 newsletter in the Fall of 1988, to alert Los Angeles to the trial of neo-nazi Tom Metzger of WAR (White Aryan Resistance) and several other local KKK and Nazi party figures for a triple cross-burning they had carried out in 1983. So our new digital newsletter will be only the latest of many formats – all with a consistent anti-racist perspective on liberation and decolonization!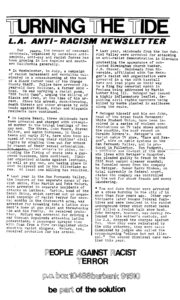 So — become PART of the solution! Click the link to subscribe to the ARA-LA/PART e-newsletter:
https://antiracist.us8.list-manage.com/subscribe?u=6b270131f831ed268a302e495&id=f046ea0b51