A.I.'s Dirty Secret: Digital Sweat-shops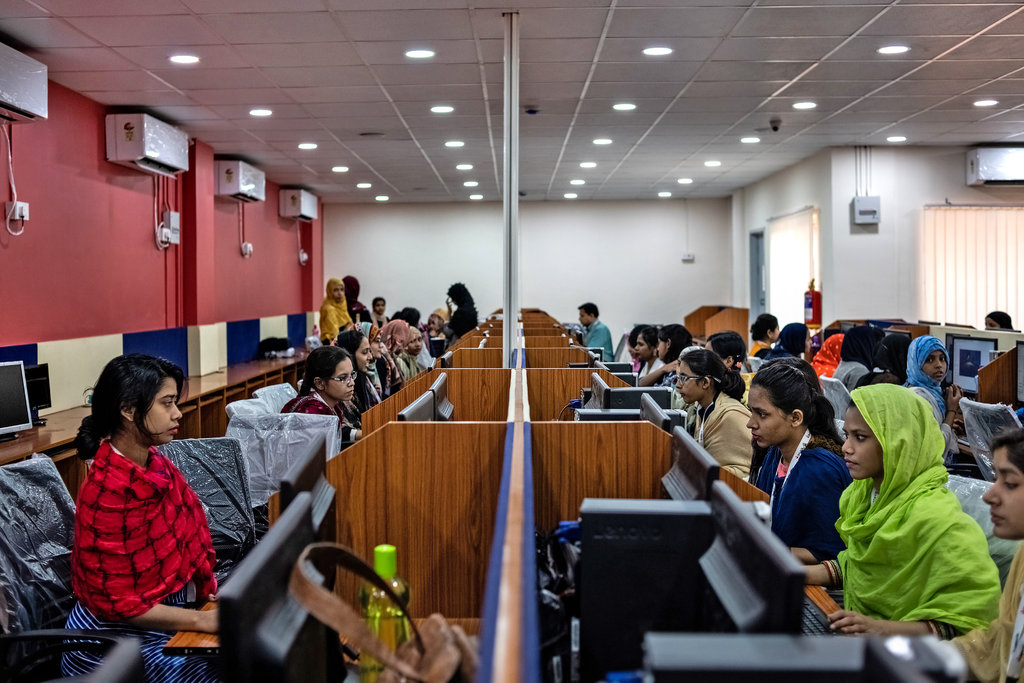 Millions of human workers in digital sweatshops power Artificial Intelligence
by Michael Novick, Anti-Racist Action-LA/People Against Racist Terror (ARA-LA/PART)
The current strikes by screen-writers and actors in the WGA and SAG-AFTRA have focused attention on the use of AI– "Artificial Intelligence" using large language models by big corporations — to try to automate creative jobs and other work, through the use of computers that can simulate voices, generate designs, and produce meaningful literary and analytical texts. Fears of such automation have generated widespread support for the striking Hollywood workers. But there's another aspect to the whole process that has gone un-noticed.
Occasionally, however, the truth leaks out even in corporate media. In the Washington Post, Rebecca Tan and Regine Cabato recently reported the dirty little secret behind AI — it depends on exploiting tens or hundreds of thousands of underpaid foreign workers.
"In a coastal city in the southern Philippines, thousands of young workers log online every day to support the booming business of artificial intelligence," they report.
"In dingy internet cafes, jam-packed office spaces or at home, they annotate the masses of data that [US] companies need to train their artificial intelligence models. … More than 2 million people in the Philippines perform this type of 'crowdwork,' … as part of AI's vast underbelly. While AI is often thought of as human-free machine learning, the technology actually relies on the labor-intensive efforts of a workforce spread across much of the Global South and often subject to exploitation. … Low-quality data yields low-quality AI. So click by click, a largely unregulated army of humans is transforming the raw data into AI feedstock."
In the Philippines, they report, at least 10,000 of these workers do this labor on a platform called Remotasks, which is owned by the $7 billion San Francisco start-up Scale AI.
Remotasks describes itself this way on its website: "What's Remotasks? Remotasks is an online tasking platform focusing on building technologies related to AI (artificial intelligence), neural networks, and machine learning. We work with different companies to help them form tomorrow's smarter gadgets – from self-driving cars to more intelligent AI systems. With our Remotaskers, we help deliver various output[s] to clients that can help them develop their AI projects – this time with our invaluable human input.
"However, unlike other online tasking platforms, Remotasks won't force you to do the same tasks over and over again. Thanks to our continuous stream of orders, our Remotaskers can engage in a wide variety of Tasks – from simple orders to more challenging projects."
Remotasks may admit that human input is "invaluable", but they are essentially arbitrageurs generating colossal profits out of the artificially low cost of human labor in the Third World applied "remotely" into the high-value-added products of Silicon Valley (whose value lies in part in their capacity to eliminate the need for higher-paid labor in the US itself).
The Manila Standard followed up on the WaPo report. "The entry of AI into the workplace is 'inevitable' and Filipinos have no choice but to adopt it — not to dictate nor replace manpower, but to be a tool for humans to be productive," the [Filipino] Department of Labor and Employment said in a statement, the paper reported. In an exclusive interview, Dominic Ligot, technologist and founder of data analytics firm CirroLytix, told Manila Standard that digital sweatshops are not unlike the traditional sweatshops in poorer countries utilized by major foreign brands in first-world nations.
Nor is this a new problem or reality. Jon Udell recently resurrected on his blog a story he wrote about similar sweatshops in India in 1993: https://blog.jonudell.net/2019/08/20/digital-sweatshops-then-and-now/ He wrote: "To a U.S. software engineer, a $3000 PC might represent a month's wages. An equivalently prosperous Indian professional would have to work a full year to pay for the same system. To put this in perspective, the average per capita wage in India is about $320…" He continued: "Indian programmers are talented, and they're up-to-date with database, GUI, network, and object-oriented technologies. These skills, along with wages 10 or more times less than U.S. programmers, [MN: that's to say, 10% or less of US wages for the same quality and value of work] make Indian programming a force to be reckoned with. Software development is a failure-prone endeavor; many products never see the light of day. But, as Tata Unisys (Bombay) assistant vice president Vijay Srirangan points out, "The cost of experimentation in India is low."
As my African ESL students reported to me over a decade and a half ago, the same type of sweated labor exists there, too — in Ivory Coast and elsewhere, African workers with little or no protective equipment dismantle often toxic e-waste to extract precious metals for recycling.
Hiding in plain sight in AI, as it does in the extraction of cobalt in the Congo or lithium on Native lands in the US for the new "green" energy economy, is the reality of imperialism, neo-colonialism, land theft and genocide. Similarly, attention is focused on traffic jams created by robotaxis in SF, but the larger reality is that self-driving car research in the US is being driven substantially by the US Army Tank Division to build autonomous battle vehicles. That's why all the Big Tech companies like Google and Amazon are now major military contractors on cost-plus "Defense" Department contracts.
The US empire is a fractal or holographic system — at every level of magnification and within every cell or fragment of the system, the reality of the empire is omnipresent and inescapable. Whether you are organizing for workers' rights or traffic safety or to protect the environment in the US, the fact of the matter is, you are confronted by an empire that is your intractable enemy. The only way to win in the long run is to recognize this reality, this enemy, and to strategize accordingly, in solidarity with those millions in Asia, Africa, and Indigenous America, north or south.