Links between the Racist and Christian Right in the Anti-Abortion Movement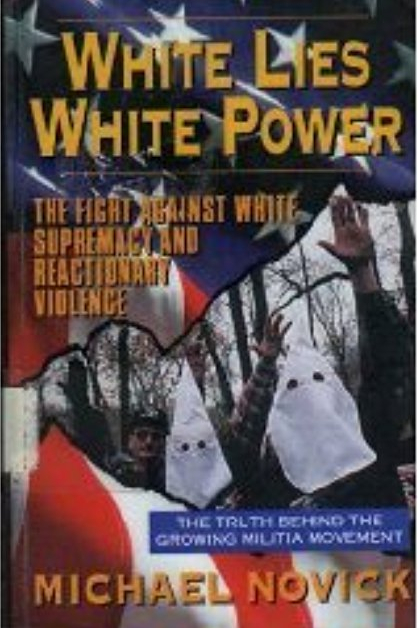 From the Archives: A Chapter in "White Lies White Power" (1995, based in research commenced in the 1980s for John Brown Anti-Klan Committee)
WOMEN'S RIGHTS:  TARGET FOR RACIST TERROR
Neo-nazi involvement in the Anti-abortion movement
The cold-blooded murder of Dr. David Gunn by an anti-abortionist in Pensacola, Florida, catapulted the issue of terrorism against women's rights onto the front pages around the country.  The subsequent shooting of Dr. George Tiller in Wichita, KS, drove home the fact that Gunn's killing was not an isolated event by a "lone nut."  As this material was being prepared for publication, Paul Hill, a leading ideologue of anti-abortion terrorism, was arrested for the shooting and killing of Dr. John Britton and his escort James Barrett, and the wounding of escort June Barrett, in yet another attack.  This forced the government belatedly to offer protection to some clinics and their staffers, and to initiate an investigation of anti-abortionists for involvement in a terrorist conspiracy.
The groundwork for these murderous attacks was laid over the previous decade, however, while the media and the government looked the other way. Since the early 1980's, the so-called "right-to-life" movement has used harassment of clinic staff and patients, death threats, intimidation, arson and even bombings, to deny women the right to choose abortion. After the open violence and destruction diminished briefly from their first peak levels in 1985-87, the issue disappeared from the mass media. But the fire-bombings, death threats and other attacks on clinics and their personnel never ceased. In fact 1992, even during the course of an election year with an anti-abortion president in office and seeking re-election, registered the highest number ever of acts of violence against women's clinics and abortion providers.
As the pro-choice movement regains the political initiative in defense of women's rights, we can expect renewed violence, not merely out of frustration on the part of the anti-abortionists, but as a key part of their overall strategy. The attempt to use murder, arson and other forms of intimidation to deny women the right to control their own bodies has in fact continued and heightened. Anti-abortion leaders have explicitly voiced a strategy to make abortion "unavailable" even if it is legal; and thereby to make it possible to later win the legal and political battle to re-criminalize abortion. In the context of aggressive direct action by Operation Rescue and other groups to shut down clinics in particular cities, bombings and other violent attacks have occurred, ranging from the discovery of a hand grenade after a clinic confrontation in New York, to the repeated arson of a woman's clinic in Redding, CA over the past two years.
In 1992, a clinic in Reno, NV was firebombed, as were two California clinics, including the Pregnancy Control Center in Sacramento in November, which had been the target of Operation Rescue blockades and "minuteman" hits. In February, 1993, a clinic in Corpus Christi TX was firebombed and burned to the ground, doing over a million dollars in damage. Dozens of clinics were the targets of butyric acid attacks (euphemistically called "stink bombs"). The day before the killing of Dr. Gunn in Florida, eight clinics in San Diego and Riverside counties in California were the targets of a coordinated series of such acid attacks, resulting in the hospitalization of four health care workers.
On Sept. 10, 1993, a Family Planning Associates clinic in Newport Beach, CA was bombed, shattering the windows. The clinic had been the target of demonstrations by anti-abortionists, and was hit by an unsolved arson the previous summer as well. On September 22, 1993, a second Family Planning Associates clinic in Bakersfield was totally destroyed in a $1.4 million arson attack that also demolished several nearby businesses. The Bakersfield clinic had also been the target of numerous demonstrations. In both cases, demonstration leaders denied any responsibility; each cynically suggested that the clinic might have been the target of a "disgruntled boyfriend."
Anti-abortion rhetoric has fueled other forms of violence and intimidation, as well as the bombings and killings. In July, 1993, a security guard hired to escort patients past anti-abortion demonstrators at a clinic in Van Nuys had a heart attack during a clinic protest. The same clinic has been the target of disruptions in 1994. In late June 1993, a San Diego obstetrician who performs abortions as part of his practice filed suit and won a restraining order against Operation Rescue and other anti-abortion activists for trespassing at his home and seeking to intimidate him. Among the people named in the lawsuit was Cheryl Sullenger, who served three years for conspiring to bomb a women's clinic in the area in 1988. Earlier in the summer of 1993, nazi bone-heads were seen participating in an O.R. clinic blockade in Orange County, being closely controlled by the local head of Operation Rescue. Nazi skins also participated in clinic shut-downs in Portland OR. A clinic in Ventura County was the target of an acid attack in 1994.
Although southern California is definitely one hot-spot for such tactics, they are becoming predominant all around the country. In Denver, CO, during the pope's visit last year, a doctor charged Randall Terry of OR with threatening his life on a nationally syndicated christian radio show. Dr. Warren Hern of Boulder had written an op-ed piece for the NY Times, describing how he was forced to wear a bullet proof vest. Terry read from Hern's piece, then called him a "vulgar baby killer," and said that "I hope he is tried for crimes against humanity and I hope he is executed." Terry's comments were aired on a local christian radio station. Yet another anti-abortionist in Denver, Clifton Powell, was acquitted in July 1994 of charges of making death threats against a clinic worker, despite having yelled at her, "Just one more day, Patty! This is your last day on earth!"
In Boise, ID, and Missoula, MT in May 1993, the only facilities providing abortion services in a wide area of the northwest were destroyed in arsons. During that same period, a clinic in Kansas City, KS was vandalized and Dr. Robert Crist, who works for Planned Parenthood in that city, had shots fired into his home in the middle of the night while he, his wife and son were sleeping. A clinic in Madison, WI was vandalized for the third time in August 1993. An abortion protester in Sacramento was jailed in September 1993 for threatening staff members at a clinic he was trying to shut down. On September 30, 1993, a Planned Parenthood family planning clinic in Lancaster, PA, where no abortions were performed, was firebombed and forced to close. The firebombing, which caused $130,000 damage, was the second such attack; a molotov cocktail had been thrown at the clinic in July.
Such tactics, along with the continued refusal of the government to authorize Medicare coverage for abortions for all needy women, are having their desired effect, in denying women practical access to what is their legal right on the books. Catholic hospitals are merging with non-sectarian ones, and denying abortion and contraception services, or refusing to teach medical residents how to perform abortions. Travelers Insurance and other major carriers are beginning to deny fire and other forms of insurance to buildings that house women's clinics. Although they claim it is a "business decision," not political, the effect has been to drive many of the remaining clinics out of business.
As a result, women are already being forced into back-alley abortions, with predictable results. In New York in August, 1993, a grand jury indicted a doctor for murder, for performing a botched, illegal abortion on a Latina woman, Guadalupe Negron, and allowing her to bleed to death, in "depraved indifference to (her) life." Another doctor has lost his license to practice medicine in a similar series of cases, and is facing possible prosecution. Here in southern California, a woman in Santa Ana was also charged with murder in August 1993 for killing another Latina woman, Angela Sanchez, a mother of four, on whom she allegedly performed an illegal abortion. Sanchez had been found dead in January lying next to her car outside the clandestine "clinic." But the lives of such Latinas, like the lives of the doctors, don't matter to the racist, sexist anti-abortion extremists.
In an example of the simultaneous massification and nazification of anti-abortion politics, a Charles Manson T-shirt is being produced in southern California by the Lemmons brothers of "Zooport Riot Gear" in Newport Beach; they pay ten cents for each shirt into an escrow fund for convicted mass murderer and neo-nazi Charles Manson. But they are also giving a "a good chunk of the proceeds" from the Manson shirt — they won't say exactly how much — to Operation Rescue, Randall Terry's fascistic anti-abortion group. The t-shirt was publicized and marketed when it was worn by Axl Rose during a national tour by Guns N' Roses, and Rose put a song by Manson on the group's latest album.
In defending the shirt, which shows Manson and the slogan "Charlie Don't Surf," Dan Lemmons of Zooport said, to the San Francisco Examiner, "People get all worked up over some murders that happened almost 25 years ago. Why not be concerned with the … babies who are murdered in the U.S. every year," referring to his anti-abortion beliefs. Lemmons told the press, "There's a good side to Charlie that hasn't gotten out… Kids today don't look at Charlie Manson as a mass murderer. He's like a rebellious figure."
Look at the hypocrisy of abortion opponents promoting a man whose followers stabbed to death Sharon Tate, a nine-months-pregnant woman, killing her after she pleaded for the life of her unborn child, stabbing her in the abdomen with a fork. Manson and his family originally sought to blame the killings on Blacks in the hope it would foment a race war. (Even after Manson was sent to prison, he continued to associate with such open nazis as Perry "Red" Warthan, head of the nazi party in Northern California. Warthan used his association with Manson to recruit young followers in the '80's, and then killed one of them for talking to the police about Warthan's distribution of nazi propaganda in the high schools.)
     We need to analyze who is responsible for the campaign of anti-abortion terror, where it's leading, and what can be done about it. By draping itself in the mantle of overwhelming moral commitment on a single issue — opposition to abortion — hard core rightist forces have disguised their true agenda and often won open support from the government and favorable treatment in the media, despite their use of violence and intimidation to achieve their political ends.  The "anti-abortion" movement is serving as a radical right united front, in which open racists are winning legitimacy and the use of reactionary political violence is winning a following.
THE KLAN AND THE KILLINGS
The killings, the shootings, the death threats against women, the arsons and bombings, must be seen for what they are, naked acts of terrorism, directed at all women and at all health care practitioners who would defend women's rights and meet their needs. The killing of Dr. Gunn, the shooting of Dr. Tiller, and the murder of Dr. Britton and his escort, and the role in these atrocities of "former" Ku Kluxer John Burt, illustrate this well.
In a paper on the anti-abortion movement I wrote in 1984 for the John Brown Anti-Klan Committee, Pensacola anti-abortion leader John Burt was identified as having been a Florida Ku Klux Klansman. Burt has repeatedly since admitted his Klan involvement, but claimed it was a thing of the past. He has consistently been at the forefront of public fomenters of, and apologists for, violence and terror against women. Yet despite his exposure, he was never repudiated by his fellow "pro-lifers."
In the 1980's, three Florida clinics were bombed by two young white couples who were followers of Burt, in some of the earliest acts of such violence, helping to initiate a national trend of terrorism. Burt had shortly before changed his title from Klansman to "lay preacher," claiming that he was "born again" and no longer a racist. Yet fundamentalist televangelist Jerry Falwell stood up for the "good Christian young people" and their families.
Falwell, then leader of the so-called "Moral Majority," offered to defend and provide financial aid to the four clinic bombers in Pensacola, who came out of families involved in Burt's public picketing. This pattern of terror bombers well connected to the public movement, was similar to most of those who have been caught for such bombings and other violent acts such as kidnaping and shooting. Although he didn't condone violence, Falwell said, the four were "probably sincere people," and the blasts had focused national attention on abortions. He compared the clinic bombings with the civil rights movement, and noted that there had been "lootings, burnings all over America" after Martin Luther King was killed. In attempting to equate the clinic bombers with the Black liberation struggle, Falwell chose to ignore the "irony" that the Pensacola bombers were brought into the anti-abortion movement by a former leader of the local KKK. Perhaps this is because Falwell, too, was forced to acknowledge having been an active segregationist earlier in his career.
In the public anti-abortion campaign in 1986 that continued after those bombings failed to shut the clinics down, Burt knocked down the manager of the Pensacola Ladies' Center and a volunteer, when he led six protestors in invading the medical facility, which had already been bombed twice before. Burt and his followers injured two women, one seriously, and damaged equipment in the invasion.
Yet despite this history of racism and violence, in which Burt carried over his Klan tactics to his new "calling" as an anti-abortionist, the mainstream movement at the time did not isolate or repudiate him. Its embrace of him then eased the path to new and more fatal violence.
Undaunted by the arrests and unopposed by "mainstream" anti-choice groups, Burt continued his organizing, becoming the leader of forces allied with Rescue America, a national anti-choice group that grew out of the "direct action" wing of the anti-abortion movement, and has been even more supportive of violence than Operation Rescue. Although Michael Griffin, Dr. Gunn's assassin, had asked Burt's congregation to pray for Gunn to come to Jesus, and had publicly stated that he would "bring Gunn to Jesus," Burt and his fellows did not report Griffin's threatening remarks or do anything to stop him from carrying out his murder.
Griffin was no fringe fanatic, but a conscious adherent of the strategy expressed by Randall Terry that "the doctor is the weak link." Doctor Gunn had appeared on a "wanted poster" at an Operation Rescue rally (in Montgomery, AL) which gave Gunn's home phone number. After the murder, leaders of Rescue America and other anti-choice groups quickly issued a moral justification for the execution of Dr. Gunn by labeling him a "mass murderer." John Burt drove the point home on national TV, that the "godless" doctors who perform abortions should fear for their lives. Burt referred to the killer, Griffin, and the doctor, Gunn, as equally "victims of the abortion system." John Baumgarder, once Imperial Wizard of the KKK, wrote to the Pensacola papers from Gainesville FL, to support Griffin's shooting of Gunn as "biblically justified."
A few early press reports of the killing acknowledged Burt's documented history of Klan activity and of anti-woman violence. But they accepted him at his word as a "lay preacher," and allowed him to claim moral high ground for his cause. A few reports also noted that Griffin's wife had sought an injunction against him to prevent him from further battering her. As earlier versions of this report predicted, these failures to expose the terrorists led to further killings, just as the Pensacola bombings led to further arsons and attacks.
In August, 1993, Rachelle Renae Shannon fired four or five times from a semi-automatic weapon and shot Dr. George Tiller twice, after participating in an anti-abortion protest outside his Wichita, KS clinic. Shannon, wanted as a fugitive after failing to appear in court following her arrest at an earlier clinic blockade in Milwaukee, had been corresponding with Griffin and also writing to Burt, regarding the need for "pro-life Christians" to support Griffin.
Shannon, who had been a participant in Operation Rescue clinic shutdown attempts around the country for several years, has hinted at her culpability along with others from in her movement, in a string of arsons and other attacks. She had been editing a newsletter for convicted and imprisoned clinic bomber John Brockhoeft. Brockhoeft is serving seven years for having bombed a Planned Parenthood office in Ohio in 1985. In 1988, Brockhoeft was arrested with explosives in his car near the same Ladies Center in Pensacola FL, which had been bombed by followers of Burt, and invaded by Burt himself. Burt, who brought Brockhoeft to the site, was charged with violating the terms of his own probation, for coming too close to the clinic after his own previous attack on it. But Burt was not charged on any explosives counts. Brockhoeft was sentenced to 26 months in prison for that bombing attempt.
Witnesses at the Kansas shooting saw Shannon jump into a get-away car driven by another person, but no one else was charged in the Tiller shooting. Shannon was arrested 160 miles away from the shooting, across a state line, returning the rent-a-car which had been spotted by eyewitnesses. (In a separate incident that same week, an abortion doctor from Atlanta was shot and killed outside a restaurant after he accosted someone trying to break in to his car. Authorities denied that there was a political motive in that shooting, although they did so on the basis of no public evidence or identified suspects.)
Brockhoeft's report, which Shannon edited, is one of a number of anti-abortion extremist publications which have been laying the ideological groundwork for the use of deadly force to stop abortions. Just a day or two before the Wichita shooting, Rev. David Trosch, a Catholic priest in Alabama, attempted to run a mainstream newspaper ad advocating the killing of doctors who perform abortions as a form of "justifiable homicide." In the wake of Griffin's killing of Gunn and Shannon's shooting of Tiller, many public anti-abortion figures came forward to support and defend their actions. Andrew Burnett, head of Advocates for Life ministries, said, "I'm supportive of what (Shannon) did. It was a courageous act." Don Treshman, the national head of Rescue America (Burt's current group), said, "This shooting … will result in babies' lives being saved."
Life Advocate, another anti-abortion publication which promotes the strategies and thinking of the most violent wing of the movement, ran several articles defending Griffin's killing of Dr. Gunn. Said one Protestant theologian in Life Advocate: "If the Bible allows the use of force, even killing someone, to defend property (Exodus 22:2), how much more must this apply to innocent little boys and girls … It's a little troublesome that in this doctrinal "gray area," (some) would rather give the benefit of the doubt to the murderous aggressor (the doctor) and let the children die." A Catholic priest is more blunt: "You see how stupid it is for … the U.S. Bishops to call an act of self defense in favor of unborn infants (like the killing of Dr. Gunn), murder? What I am telling you is God's law. … The Bishops should have condemned the abortions that the doctor performed and praised the heroic act … by the pro-life man."
It is probably no coincidence that the latest killings following this line of reasoning also took place in Pensacola, where "former" Klansman Burt is based, and where anti-abortionists conduct a "boot camp" for their shock troops in clinic shut-downs. Paul Hill, who shot and killed two more clinic workers there, was only as good as his published word. A fundamentalist minister who led anti-abortion activities in the southeast, he had put out a broadside advocating the use of force to "defend" born and "unborn" children and had been one of the most outspoken supporters of Griffin. He declared such violence against clinics and medical practitioners to be "Defensive Action," which is what he called his new group.
After the murder of Dr. Gunn, according a report by the Bay Area Coalition for Our Reproductive Rights, the anti-abortion leaders in Pensacola had made it their highest priority to identify the doctor who replaced him. In a chilling account quoted from their own publications, the anti-abortionists described trailing and spying on clinic workers until they spotted the doctor's license plate. They relayed this information to Burt, who ran a check on the plates, identified the doctor and publicized his identity — the doctor shortly thereafter was shot and killed, allegedly by Hill.
Pat Robertson's American Center for Law and Justice was defending Hill on other charges at the time of the killings. Like Shannon, who was facing other anti-abortion criminal charges at the time she shot Tiller, Hill had been arrested in June 1994 for violating noise ordinances during a public anti-abortion protest. Hill's lawyer on a number of his other cases is Michael Hirsch, who wrote an article for the Law Review of Robertson's Regents University Law School advocating that the killing of abortion providers is justifiable homicide, comparable to the actions of those who plotted to kill Hitler. Hirsch, back when he was the militant head of Operation Rescue in Atlanta, appeared as a featured speaker at a conference sponsored by neo-fascist Lyndon LaRouche.
After the killing of Britton and Barrett, John Baumgardner, the Klan leader who had written to support Griffin's shooting of Gunn, announced that the KKK would hold an anti-abortion protest at the
Ladies' Center, to denounce the assignment of federal marshals to guard some of the clinics. Eight hooded Klansmen also joined an anti-abortion picket line outside a clinic in nearby Melbourne, FL. Even though no abortions were scheduled at the site, women seeking clinic help had to walk a gauntlet of the hooded racists.
ANTI-ABORTION VIOLENCE: PART OF A RACIST RIGHT STRATEGY
Despite this documented record of racism and violence, the right has mobilized and radicalized a mass base of thousands on the basis of the abortion issue, for door to door canvassing, direct action against clinics, and electoral activity directed against women's right to control their own bodies. It's out of this mass movement that the bombers, stalkers, and killers have come, the Army of God and other groupings whose extra-legal and para-military actions have been legitimized and justified by the rest of the anti-choice movement. The government, unprepared to use open repression itself to completely outlaw abortion, de facto accepted over a long period of time, the use of illegal political violence to reach the same goal.
One reason anti-abortion violence reached a new crescendo in 1992 was a series of favorable court rulings for Operation Rescue and its cohorts, opening the door to more militant intimidation, and stripping the clinics of the protection they had enjoyed under the Reconstruction era anti-Ku Klux Klan civil rights act. Recent laws reinstating such protection are only as good as their enforcement. Hill was free and on the streets at the time of the killings because federal authorities refused to prosecute him under the new clinic protection act, designed to remedy these court rulings, despite complaints by clinic staff of harassment by Hill which they felt violated the law.
As we look at these past few years of struggle over reproductive rights, three things become clear. First, violence is an inextricable part of the right wing's strategy in the struggle to revoke abortion rights; the violence has been supported by the public movement and winked at by the government. Second, the "pro-life" movement is a racist movement, opening avenues to legitimacy for avowed white supremacists. Third, the right has targeted women as part of a strategy that moves this country towards fascism. We will not be able to combat and defeat the campaign of terror against abortion rights, unless we fully understand the nature and breadth of the movement that confronts us. The rest of this paper examines these three main points in turn.
ANTI-ABORTION ACTIVISTS:
APOLOGISTS FOR TERRORISM
The anti-abortion campaign is making it possible for the right wing to broaden its base and develop a para-military capacity through attacks on women. In much the same way, in the 1970's, the mass anti-busing movement tapped widespread opposition to school integration among white people, and made it possible for the KKK to organize openly, for racist terrorists to blow up school buses and attack Black children, and for anti-busing activists to win elections with thinly-veiled appeals to racism. The difference is that in the 70's, the coalition that had supported prior civil rights struggles abandoned black people to these attacks, and did not contest effectively for mass support among white people. Today, the movement for reproductive rights and women's liberation is reasserting itself in the face of the rightist onslaught. But that movement must be strengthened. Becoming aware of the true nature of our enemy is a crucial part of that effort.
Examples of the relationship between the public anti-abortion movement and the bombers abound. We can look at developments in San Diego, California for instance, as one case study. In that city, the Birth Control Institute was bombed on September 13, 1984 after months of picketing and hostile confrontations by Christian fundamentalists led by Rev. Dorman Owens. After the bombing, public harassment and secret attacks continued. The offices of the clinic's lawyer were burglarized, and files stolen. Owens, who has demanded the death penalty for lesbians and gay men despite his professed reverence for "life", extended his picketing to the local gay-oriented Metropolitan Community Church, which also began to receive bomb threats.
Finally, a clinic bomber linked to Owens, with a history of prior arrests for anti-choice and anti-gay harassment, was caught in the act by San Diego police in the summer of 1988. Eric Everett Svelmoe, a member of Owens' fundamentalist Bible Missionary Fellowship, was arrested by the Criminal Intelligence Unit of the San Diego P.D. on a stakeout at the Alvarado Family Planning Clinic. Disguised in a woman's wig and black-face, Svelmoe drove a pickup with its lights out onto the grounds of the clinic, and planted a pipe-bomb attached to a two gallon gasoline drum under the clinic stairs. He was followed to his home, where he was arrested; a .357 magnum and ammunition were seized from the truck.
Svelmoe, a 29-year-old aviation mechanic, was arraigned on federal charges of possession of an explosive device and interstate transportation of explosives. Police and investigators from the Bureau of Alcohol Tobacco and Firearms (ATF) refused to say how they learned of the planned bombing. Federal agents obtained warrants to search the home of Cheryl and Randall Sullenger, who, like Svelmoe, were associated with the Rev. Dorman Owens' fundamentalist church and were two of the most outspoken public anti-abortion figures in the city. Owens, Svelmoe, and Sullenger had all been arrested previously for violating a court order that limited their picketing of birth control facilities in the area.
According to Debra Flemming of Womancare, (a feminist health facility which had received a bomb threat the same night that Svelmoe was arrested,) Mrs. Sullenger had been suing the clinic for false arrest. Sullenger claimed she was not a member of Owens' church, and not subject to an injunction obtained by the clinic to prevent Owens and his followers from obstructing the clinic. "We know there is a political conspiracy to shut down abortion clinics that goes right up to Reagan," Flemming said at the time. She demanded that the ATF determine and uncover the extent of the criminal conspiracy. Sullenger was the head of an Operation Rescue like outfit called Operation Jericho (as in "when the walls come tumbling down"), which had been picketing the Alvarado clinic prior to the bomb attempt. Despite her association with the bombing conspiracy, Sullenger remains an active leader of the public anti-choice movement, listed in 1993 as a contact person in San Diego for Operation Rescue's "No place to hide" campaign directed against abortion providers in their homes.
Rev. Owens claimed in 1988 that he was "shocked" by the arrest of Svelmoe, but he called Svelmoe "committed to the Christian cause." Svelmoe's willingness to carry his Christian commitment into illegal action in Owens' causes was a matter of public record. In 1985, Svelmoe's pilot's license had been suspended by the F.A.A. when he buzzed the San Diego Gay Pride parade with an anti-gay banner during an Owens-led counter-demonstration. He didn't have a permit for the banner. At the subsequent year's Gay Pride parade, someone again flew an anti-gay banner in circles over the marchers.
Detective Barone of the San Diego P.D. said that Svelmoe's fused pipe bomb and gasoline could have leveled the clinic had it not been defused. Jim Stathes, head of the local office of ATF, said the investigation was looking into links to two previous unsolved firebombings (of the Birth Control Institute in nearby El Cajon in 1984 and 1985). Flemming of Womancare pointed out that the San Diego events followed the pattern of clinic bombings around the country: "The public picketing either increases (dramatically) or stops suddenly right before the bombing. The Saturday before we got the bomb threat, the usual pickets weren't here." Sullenger's group did picket the Alvarado center the weekend before the attempted bombing.
In the aftermath of the foiled bombing attempt, Owens, his associate pastor and five followers were arrested by federal authorities and charged with conspiring to bomb the Family Planning Associates Medical group. Owens was also charged with and eventually convicted of witness tampering because of his attempts to get the captured bomber to withhold his testimony about the other conspirators.
Svelmoe agreed to cooperate with authorities. Based on his testimony, the U.S. Attorney filed a complaint detailing the purchase of chemicals and gunpowder to build the bomb, and a series of meetings to plan the bombing, one held at Bible Missionary Fellowship Church and another at Owens' home. Authorities alleged that Owens and the others, including Randall and Cheryl Sullenger, also conspired to bomb the feminist Womancare Clinic and the offices of Planned Parenthood. The defendants eventually either pleaded guilty or were convicted of various of the charges.
The San Diego case is instructive in its exposure of direct organizational links between the top visible, public leaders and the terrorist bombers of the anti-abortion movement. Joseph Scheidler, the director of the Pro-Life Action League and political godfather to Randall Terry and to John Burt's Rescue America, came to San Diego in the midst of Owens' picketing campaign, to step up "direct action". He also appeared during the same period in Maryland to picket a clinic there, shortly before it was firebombed by the Army of God. From a base in Chicago, Scheidler criss-crossed the country in the mid-'80's, teaching the tactics to shut clinics down "by any means necessary". Once shunned by "respectable" pro-life groups, Scheidler now is a leader of the mainstream of that movement.
In San Diego, he explained to the press that his group had shut down six clinics in Chicago through its tactics. "Simply by (our) being there, they're upset inside … and the doctor's nervous … Women going in are thinking, 'This must be a bad thing to do, to murder my baby.' … The complication rate will go up during the operation. That's not my fault." It is this true callousness about life which allows the public "pro-life" leaders to blink at the bombings, justify them, or as in Owens' case, to conspire to carry the bombings out. It is this same callousness which allows public anti-choice leaders to defend or justify the execution-style slaying of Dr. Gunn, and the wounding and attempted murder of Dr. Tiller.
Other national leaders also made it clear throughout the '80's that the bombings did not faze them. Cal Thomas, then vice president of the Moral Majority under Jerry Falwell, wrote a nationally syndicated column which appeared in the L.A. Times headed "Bombing Abortion Clinics: It's Violent, But Why Not?" In it, he issued a defense of the bombings after two clinics near Washington, D.C. were blasted in 1984. "The line I like best," he wrote, "came from Jayne Bray of the Pro-Life Action Committee: I am personally opposed to the destruction of property, but I respect the rights of those who do it where babies are slaughtered." In a similar vein, the U.S. Catholic Bishops, who finally condemned the bombings only after more than a year of silence in the face of mounting pressure to speak out, attributed the cause of the bombings to "the violence unleashed on society by abortion."
Sometimes, public anti-abortion forces directly protect the secret terrorists. In Houston TX, after four women's clinics were attacked in the 1980's by arsonists (three in a single weekend), a Presbyterian pastor, George Grant, told the N.Y. Times that "local people and some people that were called in from outside were responsible." But he refused to give his information to the authorities, because he said he "did not want to incriminate the credible part" of the pro-life movement. "I'm a pastor, and there are times when you don't want to reveal your sources to the big guns."
Given this protection by the public movement, the bombers stepped up their efforts, increasing the number of attacks and the level of violence. In 1984, 30 clinics were bombed or burned. In the following two years, there were over 300 bombings, arsons, threats and attempted bombings. The bombers shifted to day time hours, heavier explosives, and letter bombs that can kill people, rather than simply trying to damage the facility. One bomber caught in this period, Dennis Malavesi, had been trained in demolitions in the Marines. His recent release from prison, after a very short sentence, was greeted with welcoming cheers by the wing of the public anti-abortion movement that most emphatically and openly justifies the violence. Yet in that same period, media attention drifted away, allowing the national scope and intensity of the issue to be obscured. Feeling that the bombings and their apologists had served their purpose in establishing the abortion issue on their terms, the anti-abortionists turned their efforts to mass direct action. But at no time have the bombings and death threats come to a complete halt. For example, firebombs caused $75,000 in damage to a clinic owned by Planned Parenthood of Ohio in 1991. The Columbus, OH clinic is five blocks from the state legislature, where a bill to restrict abortion rights was under consideration. In 1992, nearly 200 acts of violence against clinics and providers took place.
Support for the open violence continues to come from spokespeople of the public movement. When, just before New Year's 1987, two clinics in Cincinnati were firebombed during the daytime after a campaign by Americans Against Abortion, the president of the National Right to Life Committee told the Cincinnati Enquirer that clinic attacks won't stop until abortions do. "I don't think retaliatory violence will stop as long as the stimulus for it remains." In the spring of 1990, after Operation Rescue was turned back in an attempt to shut down women's clinics in L.A., a local building housing a number of women's clinics and counseling offices was firebombed. In the 80's, right wing preacher Robert L. Hymers led a so-called "Fundamentalist Army" in L.A. which publicly prayed for the deaths of Supreme Court justices. This appears to have led to at least one death threat which required intensified security efforts by the Secret Service. In February 1991, a "pro-lifer" fired a shot at a California judge who had ordered the Norplant contraceptive implanted in a woman defendant in a trial for child abuse, to stop her from having more children.
ANTI-ABORTION VIOLENCE:
APPROVED BY THE JUSTICE DEPARTMENT?
The shooting of Dr. Tiller was also the culmination of a long process carried out by public anti-abortion forces in apparent tandem with the clandestine violent elements. In June 1986, Women's Health Care Services in Wichita, KS, owned by Tiller, was bombed. The explosion, audible two miles away, blew a hole in the wall and broke windows at a V.A. hospital across the street. Tiller had received bomb threats against the clinic, himself and his family, over many years, before being shot. At the time of the bombing, Tiller said, "People with this type of mentality encourage this type of thing, and it goes right to the White House, which aids and abets this sort of anarchy."
The attack on abortion rights, as serious as it is in itself, also served as the spearhead for a broader right wing offensive to gain and maintain state power. Using anti-abortion fervor and the hysteria over AIDS, the right sought to reverse the legislative gains achieved in decades of struggle for women's liberation through attacks on women, lesbians and gay men. It's more than coincidental that both David Duke and Randall Terry, on almost the same day, declared their opposition to the admission of open gay men and lesbians into the military, signaling that anti-gay organizing would become an important new focus for both of them. Duke's followers, in alliance with fundamentalist Christian rightists, took over virtual control of the Louisiana state Republican party in November 1992. A study currently being conducted by the Center for Democratic Renewal is showing substantial involvement and support nationally for Duke from the ranks of the clinic blockaders. Randall Terry's effort to follow Duke into the political arena with a run for Congress may be derailed by his prosecution for assault growing out of a two-man "minuteman" hit he carried out last year against a clinic in Los Angeles, CA.
In Burbank, CA, as in a number of cities nationally, the Citizens for Effective Education, a front group associated with Pat Robertson's Christian Coalition and its "stealth candidate" strategy for winning elective office, is trying to use the issues of abortion, contraception and gay rights to take over the schools. At a 1993 candidates' night for school board nominees, the CEE questioned candidates closely about their positions on abortion and on "Christian morality." In the subsequent election, the candidate who most affirmatively embraced their stance was elected outright, while the incumbent school board president, who challenged the relevance of the abortion issue to the schools, was forced into a run-off.
In areas of San Diego, the same churches which have provided shock troops for clinic blockades, have turned their members out to bloc vote in "pro-family" candidates to several school boards. The San Diego "Pro-Life Council," led by clinic blockader Connie Youngkin originated the stealth campaign tactic, quietly backing 88 school board candidates in 1990, and seeing 50 of them elected, including Rev. Wayne Wilson, head of OR in San Diego, his daughter Cheryl Jones, an OR activist who expressed her disagreement with teaching evolution, and Rebecca Clark, whose mother and employer was an associate of neo-nazi Tom Metzger in his anti-immigrant campaigning.
Ronald Reagan characterized the attempt by the right to reshape U.S. society for the rest of this century as a "Second American Revolution." The "pro-family" coalition through which the right is broadening its base and sharpening its militance is a crucial factor in this retrenchment.
Raising the banner of god, mother and country, the right is attacking women's liberation in a step towards mobilizing people to defend the American empire at home and around the world. With the end of the Cold War as a defining issue for the establishment right, more nakedly racist, anti-woman and anti-gay politics are coming to the fore.
The Republican Convention which re-nominated George H. W. Bush gave stark evidence of the extent of the power which has fallen into the hands of these forces, under the slogans of "family values" and "cultural war." Although the rejection by most people of these fascist rallying cries forced Bush and Quayle to back away from them, much of the Republican Party apparatus on the national, state and local level remains in the hands of these Christian rightists.
What was true under Reagan remained true under Bush, who made his first public address as president to an anti-abortion rally, and whose 1992 re-election platform called for a Constitutional amendment to outlaw all abortion under any circumstances. It remains to be seen how vigorously the Justice Department under Clinton appointee Janet Reno, will prosecute the anti-abortion terrorists and whether Clinton will fight to keep abortion and contraception services in his health care reform.
When Reagan himself finally spoke out against the bombings, (once, briefly) he refused to call them terrorists, carefully classifying the bombings as "anarchy and unlawful". These views continue to be the official policy and practice in federal law enforcement until they are explicitly repudiated. William Webster, when he was FBI Director (before going on to the CIA), held a special press conference to explain that investigating the clinic bombings was not a priority of the Bureau, because the bombings were not terrorism.
"I'm trying to hold the line and not call everything terrorism," explained the FBI director, who previously had stoked the hysteria about terrorism in attacking the Black liberation movement, Arab-American supporters of Palestinian rights, and other dissidents. Webster elaborated that clinic bombings did not fit the FBI definition, because the bombers weren't "trying to shift the government," and added "(their) objective is social." The bombers weren't trying to shift the government — because the government was on their side.
If Clinton is to do anything to reverse this, it will only be under unrelenting mass pressure for women's rights. Apparently, the confessions and hints offered by Shelley Shannon, the attempted assassin of Dr. Tiller, and the support petition for killing of abortion providers as justifiable homicide circulated by Paul Hill, have opened a window for federal agents into this underworld of anti-abortion violence.
But the opportunity existed for nearly a decade of federal inaction. Dan Hartnett, the head, under Reagan, of the division of the Bureau of Alcohol, Tobacco and Firearms charged with investigating the bombings in place of the FBI, claimed there was no conspiracy involved in the bombings. He maintained for instance, that the Army of God did not exist, even after the group claimed credit for several of the bombings, kidnapped in two different states doctors who had provided abortion services, and sent death threats to the Supreme Court Justice who wrote the Roe v. Wade decision which upheld women's privacy rights and legalized many abortions.
Perhaps given Shannon's involvement in anti-clinic attacks in numerous states, along with several confederates, and Hill's circulation of a petition calling the killing of abortion providers justifiable homicide, which was signed by dozens of the top anti-abortion leaders, some federal investigation and prosecution may finally be forthcoming.
The death threats and bomb threats against Supreme Court justices and doctors alike, were made credible by the bombings, and the government's policies only served to justify or minimize them. With Dr. Gunn's execution, the threats became reality. It is a series of short steps from the Republican platform accepting opposition to abortion rights as a litmus test for federal judges, to Pat Robertson's announcing in his fundamentalist campaign for president in 1988 that he does not recognize court decisions as law, to Rev. Hymers of the Fundamentalist Army in Los Angeles flying a banner with his prayers for death over the public appearance by a Supreme Court justice, to the carrying out of such threats.
RACISM AND THE RIGHT:
WHOSE RIGHT TO LIFE?
The anti-abortion movement provides an opening to the radical right not only by legitimizing terrorism, but also by providing an avenue to respectability for open racist forces.
The violence committed by Operation Rescue and similar groups in their attempts to close down women's clinics, and the violations of women's right to choose, are part of a larger strategy by the right wing to turn back the gains of the women's movement and other progressive forces. Within the so-called "right-to-life" movement, racists and other fascist right forces are seeking to build a mass base and to sharpen the tools of repression and intimidation with which to crush all dissent. For example, in Dallas Texas in 1991, five Klansmen marched with Operation Rescue to shut down a clinic. They proclaimed that the Ku Klux Klan opposes abortion.
  This practice was repeated by nazi boneheads in California and Oregon in 1993.
These are not isolated instances. Tom Metzger, a national racist organizer based in southern California, has long proclaimed that "abortion is white genocide" in his newspaper WAR (White Aryan Resistance). A former Grand Dragon of the California KKK associated with David Duke, Metzger declared on his telephone hate-lines in six California cities, "Almost all abortion doctors are Jews … Almost all abortion nurses are lesbians … Jews must be punished for this holocaust and murder of white children along with their perverted lesbian nurses."
This rhetoric, which has gone unchallenged by the mainstream anti-abortion leaders, has directly precipitated violence. In the summer of 1983, for example, in one of the first instances of physical violence against individual clinic staffers, a California Klansman who had been a member of the prison based Aryan Brotherhood, killed one man and then took two women hostage at a Los Angeles west side women's clinic. He injured one of the women severely before being killed in a shoot out with police.
Yet another example of this is the shooting attack on a Grand Rapids Michigan Planned Parenthood facility on September 30, 1992. Agents of the Bureau of Alcohol, Tobacco and Firearms (ATF) identified Leland Smart, an associate of local white supremacist Terence Paul, as a suspect. Suspicion fell on Smart after a raid of Paul's home netted five fully-automatic assault rifles, two Uzi's, live grenades and 57,000 rounds of ammunition, along with Aryan Nations, Klan and neo-nazi propaganda.
WAR (White Aryan Resistance) Youth, led by Tom Metzger's son John, and the Aryan Women's League, which moved its headquarters down to Metzger's home base of Fallbrook, CA and is run by his daughter, have propagandized nazi-skinheads and white racists to join the anti-abortion movement. In the San Francisco Bay Area, the Aryan Women's League, whose logo is a women's symbol above a swastika, has called on white women to have more babies to "propagate the race." After the Hill killings in Pensacola, Tom Metzger declared on his hate line that if the killings saved "Aryan lives," he would "condone them."
David Duke has also attached himself to the anti-abortion cause. Louisiana's harsh anti-abortion law, which he supported, was passed as an amendment to a bill originally designed to legalize physical attacks on flag-burners.
Joe Fields, a one-time associate of Duke's and Metzger's, and a long-time open nazi from L.A.'s Harbor area, led a group of his Populist Party supporters in picketing a pro-choice electoral rally in L.A. in October, 1992. Fields, who was running for the state assembly, carried "Abortion Kills Children" and "Abortion is Murder" placards. The Populists harassed a pro-choice, anti-racist activist, but left after failing to disrupt the rally or confront the Democratic women Senate candidates who were present, Barbara Boxer and Diane Feinstein. At this writing, Fields, who is now running for Congress, is still a strong abortion opponent; simultaneously, he is pushing a measure that would deny pre-natal care and hospital delivery to undocumented immigrant women, even though the babies, when born, would be U.S. citizens. (For more on Fields and the Populists, see the chapters "Front Man for Fascism," and "Sin Fronteras."
Lyndon LaRouche, the imprisoned neo-nazi presidential candidate, is another fascist oriented "politician" who has embraced the anti-abortion movement. Joe Scheidler and other public anti-choice leaders (such as OR leader Michael Hirsch, later attorney for accused anti-avbortion assassin Paul Hill) were guests of honor and featured speakers at a LaRouche-sponsored conference in 1991. LaRouche's group featured their remarks and photos in their newspaper.
But the linkage of racism to the anti-abortion movement is not restricted to hard-core neo-nazis. Father Paul Marx was a one-time director of the "Human Life Center," which was an anti-abortion think tank in Minnesota, and more recently head of HLI (Human Life International). He made it clear that even the establishment right-to-life groups are mainly concerned with white life, or the "American way of life." In an interview with the Minneapolis Star centering on his fear that "the white Western world is committing suicide," he explained his opposition not only to abortion but also to contraception — for whites. "I guess we have 250,000 Vietnamese here already, and they are going to have large families; the Orientals always do," he stated. "God knows how many Mexicans cross the border every night … And if we ever have to fight the Russians, I wonder if these people will be willing to stake their lives."
Pat Buchanan, former presidential adviser to Nixon and Reagan and syndicated columnist and TV talk show host, who challenged Bush for the presidency and then was allowed to speak in prime time at the 1992 convention, spewing anti-woman and anti-gay hatred, has a long history of favoring such racist rationales for opposing abortion rights. In August 1989 he proclaimed that Islam would destroy Western civilization, because white Europeans and Americans, under the domination of Planned Parenthood, were not having enough babies. Echoing Metzger's racist rhetoric, he related an account from Rev. Marx, claiming that Turkish doctors, to support their own growing families, were aborting German women at a feverish pace.
This preposterous story flew in the face of the fact that abortion at the time (prior to German reunification) was illegal and harshly repressed in West Germany, as it had been under Hitler. The West Germans even arrested women returning to Germany who were suspected of having had abortions in other countries. In Germany, the chief political party championing the hard-core anti-abortion stance, which masquerades as a "green" group, has ties to neo-nazis and holocaust revisionists.
Rev. Marx's racist rhetoric leads not only to continued attacks against women and women's clinics, but also to violence against gay men and lesbians, Jews, Moslems, Blacks, Hispanics, Native Americans and Asians. In La Verne, CA in 1990, for example, a group of nazi skinheads were convicted of attacking an Iranian couple and their infant because they were outraged that they had brought "another Jewish nigger baby into the world."
In general, the political forces leading the so-called Right to Life movement do not truly care about life. They are unconcerned about the death of women who were or would be butchered in back alley abortions. In particular, they don't care about the lives of Third World people in the U.S., about an infant mortality rate for Black children double that for whites, about genocidal rates of sterilization among Puerto Rican, Native American or Black women ranging up to 40% of those of child-bearing age.
Although the anti-abortion movement likes to justify itself by comparing abortion to nazi genocide in World War II, the movement is in fact a breeding ground for fascism and white supremacy. Pat Robertson, for example, explaining why the family had to be strengthened, stated, "The home is the basic unit of the church, … of society. When this goes, you have problems, the flotsam and jetsam of the ghetto, where people don't know who their parents are."
The racism of Robertson's views are echoed by those of the National States Rights Party (NSRP), which proclaimed its opposition to the Equal Rights Amendment in its newspaper The Thunderbolt: "The time is now to act to protect the family and motherhood itself … A negro judge in Chattanooga has already used these equality laws to lock a White woman in the same cell with a black man. She was then raped." The Republicans who tried to distance themselves from David Duke in Louisiana because he was a "former" nazi and KKK leader instead supported his primary opponent, an ex-governor's brother, who had himself formerly been a member of the racist NSRP. In the aftermath of Duke's election to the legislature, these same Louisiana politicians supported his proposals to restrict births among welfare recipients.
Tom Metzger is more honest than the rest of the anti-abortion movement about the connection between abortion and nazi genocide. "In Germany under Adolph Hitler," he wrote, "abortion was a serious crime." In fact, the right wing's program today is very similar to the slogan of "Kinde, kuche, kirche" (children, kitchen and church) which the nazis used to express their vision of women's role in the Third Reich.
STEPS TOWARDS FASCISM
Just as its defeat of the Equal Rights Amendment only whet the appetite of the racist, anti-woman right, the ugly successes in the attack on abortion will not satisfy it. Within the anti-abortion movement, we can see the nucleus of an incipient fascism: the coordinated use of state power, mass mobilizations and para-military terror to achieve the liquidation of women's rights and the struggle for women's liberation. The anti-abortion movement is now a key avenue through which the right is seeking to popularize new ideological underpinnings for the U.S. empire — not as the "free-est country in the world," but as a divinely ordained bastion of white Christian civilization.
The status and rights of women are a key battleground in this effort.
The right's intent to re-criminalize abortion, and its willingness to use terror to accomplish that goal, gives the lie to its libertarian rhetoric. The racist right is marshalling its forces in attacks on women and gays, and on immigrants, for a wholesale increase in the repressive powers of the state. Despite the differences that they have with each other, their unified opposition to abortion allows them to aggregate their forces.
When Pat Robertson was girding up for his run at the White House in 1988, he announced that the Constitution was written for a Christian nation, "but turn it into the hands of non-Christians and atheists, and it will destroy society." In Arizona in 1990, the Robertson wing of the Republicans united with toppled governor Evan Meacham to take control of the party, seeking the support of Supreme Court Justice Sandra Day O'Connor for the notion that America is a Christian Republic.
This is a premise very close to the Christian Identity doctrine of America as the promised land for the Aryans, the so-called British Israelites. In November 1992, a similar alliance of Christian fundmentalists and David Duke supporters took virtual control of the Louisiana Republicans.
Phyllis Schlafly of the anti-abortion, anti-ERA Eagle Forum has proclaimed the "right" of children "to be taught from textbooks that honor the traditional family as the basic unit of society, women's role as wife and man's role as protector and provider." The rights of the "unborn" are the same kind of "right" — a pretext for the state to exercise control over the lives of women and children. Schlafly may have best summed up the right wing's chilling vision of the role of women in defending the empire, as homemakers, and if necessary as fighters.
She has written in her 1981 book "The Power of Christian Woman," of her support for the role of women in instigating the military coups that overthrew the democratically elected governments of Goulart in Brazil in 1964 and Allende in Chile in 1973, ushering in decades of brutal fascist dictatorships and "death squad" governments.
"Christian Woman," Schlafly wrote, "starts with the knowledge that America is the greatest country in the world … (She) must be a patriot and defender of our Judeo-Christian civilization … (Chile under Pinochet) offers an outstanding example of how women can save a nation from Communist takeover … It is primarily the women who deserve the credit for the overthrow of Allende … Anything that Brazilian and Chilean women can do, Christian American women can do." But first, apparently, American women must be Christianized, forcibly if necessary.
Schlafly had been propagandizing in favor of the coup which overthrew Goulart as early as 1967, calling the elected president a "militant pro-Communist and possible secret Communist," and comparing him thereby to liberal Democrats in this country. Only after years of beating the drums for militarism and interventionism did Schlafly turn her propaganda skills to the battle to defeat the Equal Rights Amendment with the claim that it would mandate unisex toilets.
The right is intent on not only eliminating abortion and other reproductive rights but on strengthening the "family" because it wants it to serve as an instrument of social control over women and children. It is seeking a new generation of "Christian soldiers" to march to war. It is using its still growing power to coerce opposition and dissent, to put women "in their place" while mobilizing them as shock troops for reaction, just as middle class women were used to hold the pots and pans marches that helped de-stabilize the popularly elected Allende socialist government in Chile, so that a CIA-backed coup could topple it. The mass graves that resulted from this "defense" of Christian civilization are still being uncovered in Chile two decades later. Through the anti-abortion movement, anti-woman and anti-gay groups in the U.S. have been linked up with a larger right wing network that includes opponents of busing, segregationist white Christian academies, and supporters of U.S. interventionism.
The pattern established around abortion, where Reagan minimized the violence of the "Right to Life" bombers, while attacking abortion rights and identifying himself with the "pro-life" movement, has been repeated in other areas. The power of the state is used to confer legitimacy on right wing initiatives. For example:
* The repeated ballot qualification of Lyndon LaRouche's AIDS quarantine measure in California was preceded by the Justice Department's ruling that employers could fire employees with AIDS for health reasons, and by Reagan's personal recommendation that people self-donate blood rather than give to or rely on blood banks.
* The campaign by former KKK Grand Dragon Tom Metzger to seal and militarize the border with Mexico is legitimized by liberal Democratic Senator Barbara Boxer's plan to mobilize the National Guard along the border. It was mirrored by the proposal of L.A. Supervisor Mike Antonovich in running for the U.S. Senate to abolish the 14th Amendment, which recognizes the citizenship of everyone born in the U.S. Abolishing the 14th Amendment is a key platform of the racist right, which wants to expel all "non-Aryans" from the U.S.
Yet Antonovich's position has now been adopted even by liberals like Representative Tony Beilinson (Dem.-L.A.).
* The bombings of Arab American groups in Washington, Boston and Orange County was implicitly sanctioned by Reagan's rhetoric and military assault against Libya. The Justice Department continued under Bush to be unable to bring zionist terrorists to justice in the U.S. reflecting U.S. support for Zionist terror in occupied Palestine.
The FBI interrogation of Arab Americans about opposition to the Gulf War helped legitimize an outburst of anti-Arab violence in this country in the wake of Desert Storm.
There is a deadly symbiosis between groups focusing on race and gender issues and those seeking continued U.S. domination in the world. Fundamentalist groups like the Christian Broadcasting Network raised millions to support the murderous contras in Nicaragua. Jerry Falwell was both a principal spokesman of anti-gay reaction and a chief defender of U.S. and Zionist aggression in the Middle East.
Fundamentalists in this country were supportive of Guatemala's Gen. Efrain Rios-Montt, who waged a genocidal war against his own country's indigenous population, and who was just returned to the halls of power in his country's recent elections.
Connecting the demand for a stronger family and an attack on women's liberation with racism and support for a stronger empire is no accident. Whatever their differences, the Ku Klux Klan, the fundamentalists and the Republicans share a view that it is essential to drive women back into a subordinate position within the family in order to strengthen a chauvinist social base that will fight to "make America great again." The denial of access to abortion is an attempt to imprison women within their reproductive capacities, and propagate the mechanisms of male supremacy which are essential to this society.
The actual destruction of families, the increase in child abuse and pornography, the violence against women which the right wing cynically exploits, are the product of the very system of empire we're being called on to defend. In fact, violence against women, in the streets and in the family, is a hate crime. This applies as much to wife battering as it does to the killing of woman science students by a crazed male chauvinist in Canada; it applies as much to the doctors and corporations who profited from dangerous breast implants as to the sicko who carried out the hostage taking and sexual torture of coeds in Berkeley in the summer of 1992. Hatred of women is so common in our culture, that we have a word for it: misogyny.
Though the right is winning converts, it has no solutions. Neither Pat Buchanan, Randall Terry nor Tom Metzger has the desire or the capacity to end the abuse of women and children within the male dominated capitalist family. Criminalizing porn as the right and some feminists propose would only give the state additional weapons to attempt to define women's and men's sexuality, without eliminating porn; driving it underground would only make it more profitable. Pornography and the degradation of women cannot be suppressed by the censorship efforts of the capitalist state, because they are always the flip side of the attempt by class society to define and control women's sexuality and identity.
Thus, it was no surprise when New Right U.S. Senator Roger Jepsen, paragon of Christian morality, was caught patronizing a sex club, or when conservative Congressman Dan Crane was disclosed to have seduced a teenaged girl who worked as a page in his office, or when the Archbishop of Arizona confessed to having had sex with a number of women barely or not yet out of their teens, or when televangelists like Bakker and Swaggart were caught in notorious sexual pecadilloes. The string of such embarrassments for Congressional conservatives and Christian leaders continued into the 90's with Republican Rep. "Buz" Lukens, who was convicted of sex with a minor but still sought to retain his Congressional seat.
To defend women's right to choose, and other rights of reproduction and sexuality, it is necessary to wage a counter-offensive on many fronts. We must expose the links of the public anti-abortion groups to the violence, target the government's tacit acceptance of this campaign, and oppose the right's broader program of racism and militarism. The right has a strategy for the 90's. Do we?