Democracy & Diversity at Stake at Pacifica Radio – Voting Begins June 7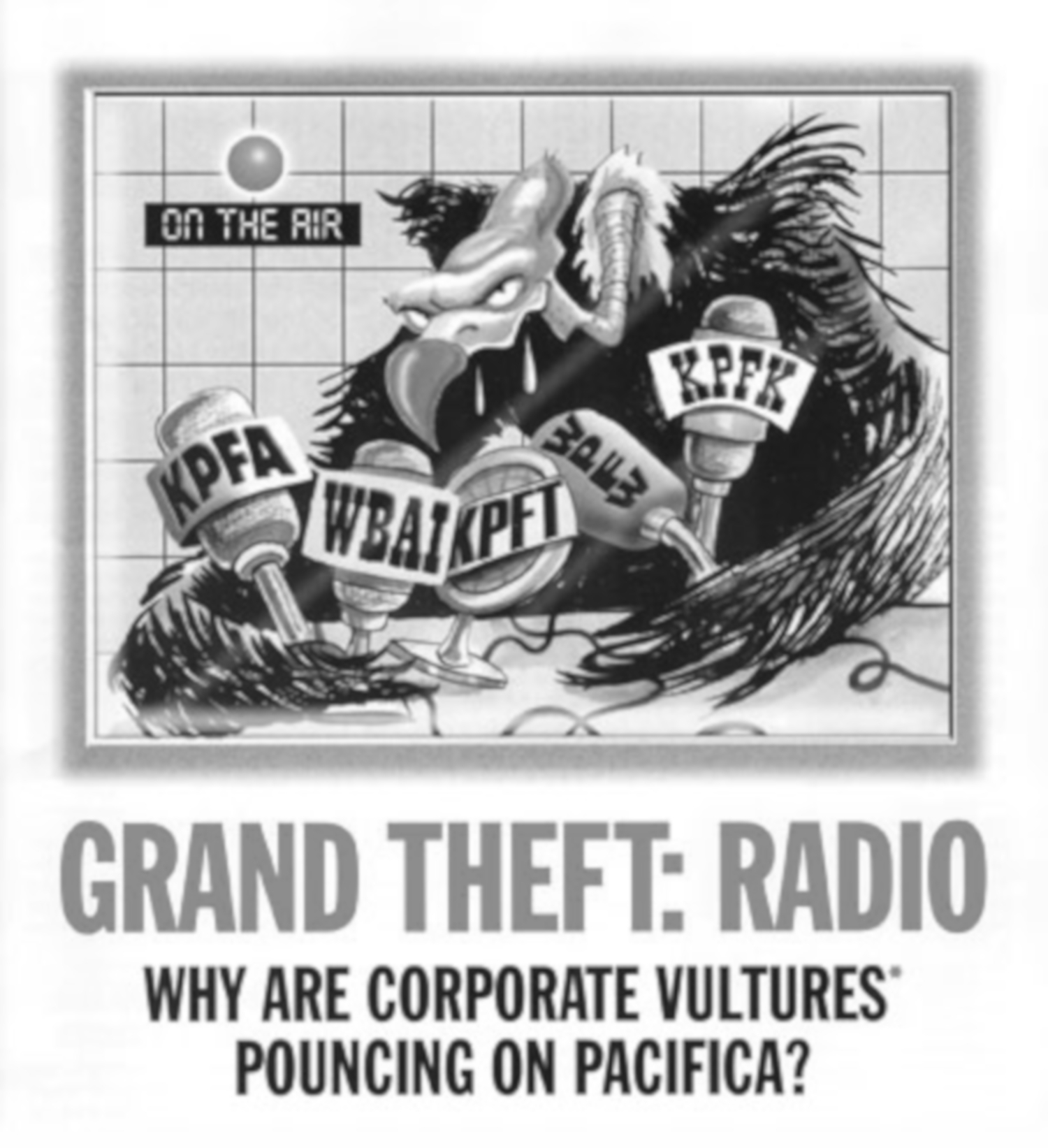 Democracy, Diversity, Commitment to Peace & Racial Justice Again Under Threat by Proposed New ByLaws
by Pacifica Fightback https://pacificafightback.org
The folks who illegally shut down Pacifica station WBAI in NYC in 2019, and who were behind the "Pacifica Restructuring Project" (PRP) Bylaws replacement that was roundly rejected by a 2:1 margin by both listener and staff members in March 2020, are back again, now calling themselves "New Day Pacifica", with a new plan to rule or ruin Pacifica. For more details, see https://pacificafightback.org.
Balloting begins June 7 on yet another effort to replace the small-d democratic bylaws at Pacifica, which guarantee proportional representation and have protected Pacifica's community orientation and free-speech commitment to the cause of peace, racial justice, equity and the airing of anti-war and even anti-capitalist perspectives heard nowhere else on the corporate dominated broadcast spectrum. A well-financed propaganda blitz by forces aligned with the Democratic Party and resistant the self-determined voices of BIPOC people outside that orbit, is seeking to stampede listeners and staff into giving up their rights.
They are trying to use real financial concerns and red-baiting to scare you into signing away your democratic rights, by blaming elected governance for declining membership. They are offering a new set of Bylaws that would allow a consolidated majority from a single station (mainly KPFA) to control the whole Foundation and network, with top-down power to sell off or swap network assets, like the station signals. They are basing their campaign on the support of paid programmers and KPFK and KPFA, when excessive payroll costs at the two stations threaten the whole foundation. They claim to want more "professional" management and a more professional sound, but their actual agenda is to silence opposition to new cold war liberalism, and what they have called "triage" –shedding one or two stations for big bucks to prop up the others.
The General Manager at KPFK, who has presided over a steady period of declining membership and revenue, with repeated, extended fund drives that have consumed almost half the total broadcast time while still failing to balance the station's budget, has left for greener pastures at NPR affiliate KCRW. This reflects a management philosophy more in tune and in keeping with National Petroleum Radio, rather than Pacifica's express commitment to peace, justice and diversity, free of corporate sponsorship. The outgoing GM strongly backed both attempts to replace the Bylaws and end democratic governance, as well as the shutdown and takeover of WBAI, but has left the station in such a red-ink deficit situation because of excessive payrolls and reduced income, that his prior allies at KPFA are threatening to turn KPFK into a repeater station, carrying only KPFA's content, and scrapping all local programming, as they attempted with WBAI.
The proposed new bylaws grab the 4 officer positions (chair, vice-chair, secretary and treasurer of a new national board) without allowing any opposition candidates. They would permanently divide the paid and unpaid staff and reduce their representation, creating a new third class of members from the unpaid staff at all five stations who would have a single national representative. They splinter the rest of the National Board into a series of single-member seats which will fall to those with the finances to dominate in situations like this.
These new bylaws would also strip away all powers of elected local oversight over management, programming policies and fairness, and finances from the Local Station Boards, reducing them to a powerless sham. Last time out, they even tried to eliminate Pacifica's explicit commitment to diversity, peace and justice. What would be the likely outcome of their serial winner-take-all elections? KPCC, the NPR powerhouse, has reportedly already advanced the idea of a signal swap for KPFK's much more powerful license of 90.7 FM and coverage from Santa Barbara to San Diego, and a KPFA-dominated national board, desperate for funds and losing listeners, might accept such a deal for the cash infusion SCPR would offer.
These new Bylaws would also basically overturn Pacifica's current Single Transferable Voting system which gives Pacifica's diverse voices a seat at the table. That really matters. Their Bylaws produce a self-perpetuating national board majority with the Board itself appointing 3 at-large members. The board majority would also have the power to replace locally-elected station reps and the reps elected by staff if a vacancy occurs for any reason.
Vote "No" To Keep Pacifica Democratic, Diverse, And Intact!
We need to fight again to retain democracy and keep radical BIPOC community voices on the air in Pacifica, and to restore KPFK to a path of community engagement! KPFK and Pacifica can only survive by rebuilding as a platform for the self-determined, grassroots voices of communities of solidarity, resistance and liberation. To vote on the upcoming anti-democratic Pacifica bylaws replacement, you must have given $25 or more or volunteered 3 hours, to your station between April 8, 2020 and April 7, 2021. You can of course join up now. You won't be able to vote on the Bylaws, but may qualify to vote for listener delegates on the various Local Station Boards (which would be neutered, and eventually replaced, if the Bylaws replacement passes.) You can find more information at https://elections.pacifica.org and on KPFK's website and airwaves.