TTT Vol. 4, #1 Jan.-Feb. 1991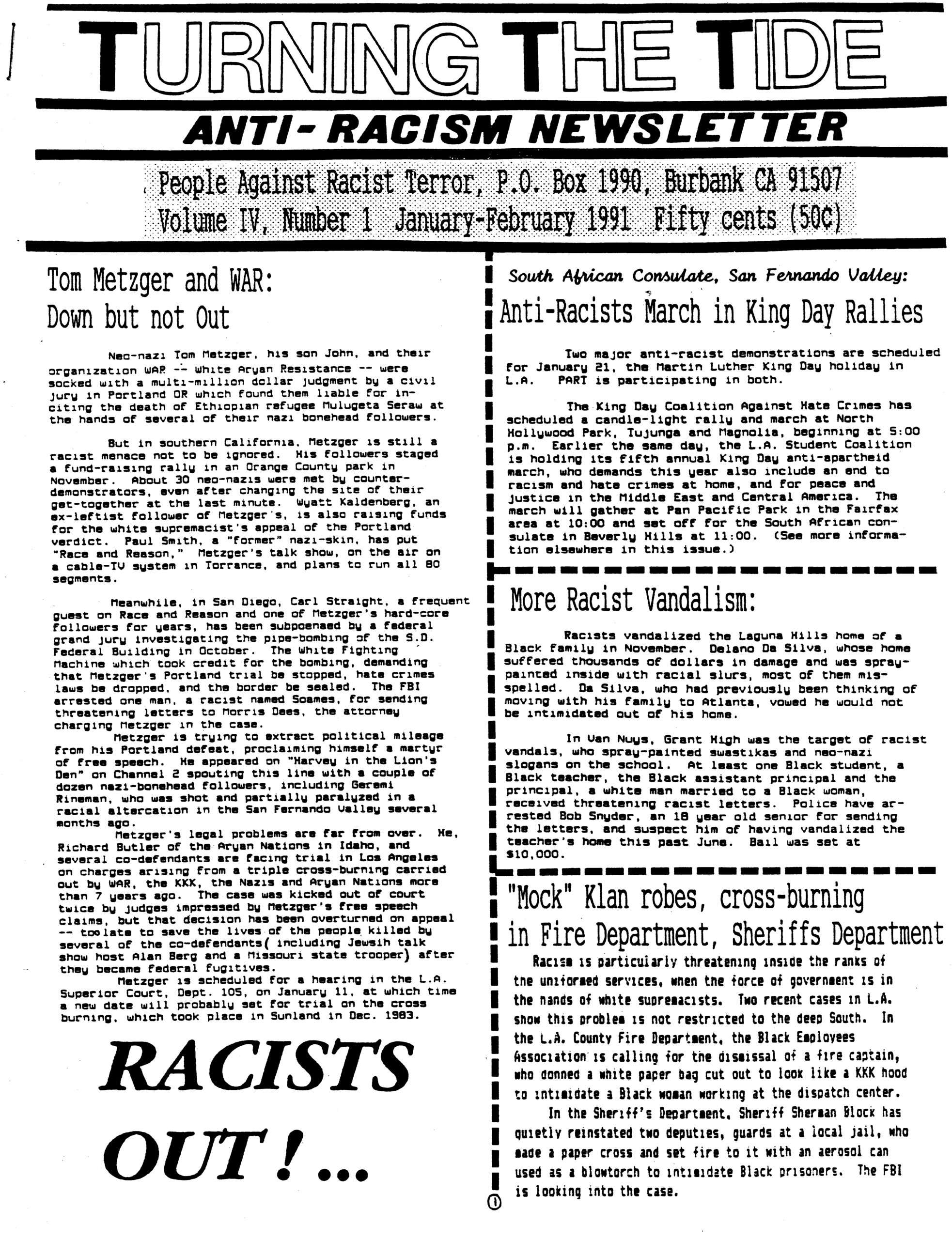 Tom Metzger & WAR: Down, But Not Out
Neo-nazi Tom Metzger, his son John, and their organization WAR — White Aryan Resistance — were socked with a multi-million dollar judgment by a civil jury in Portland OR which found them liable for inciting the death of Ethiopian refugee Mulugeta Seraw at the hands of several of their nazi bonehead followers.
But in southern California, Metzger is still a racist menace not to be ignored. His followers staged a fund-raising rally in an Orange County park in November. About 30 neo-nazis were met by counter-demonstrators, even after changing the site of their get-together at the last minute. Wyatt Kaldenberg, an ex-leftist follower of Metzger's, is also raising funds for the white supremacist's appeal of the Portland verdict. Paul Smith, a "former" nazi-skin, has put "Race and Reason," Metzger's talk show, on the air on a cable-TV system in Torrance, and plans to run all 80 segments.
Meanwhile, in San Diego, Carl Straight, a frequent guest on Race and Reason and one of Metzger's hard-core followers for years, has been subpoenaed by a federal grand jury investigating the pipe-bombing of the S.D. Federal Building in October. The White Fighting Machine which took credit for the bombing, demanding that Metzger's Portland trial be stopped, hate crimes laws be dropped, and the border be sealed. The FBI arrested one man, a racist named Soames, for sending threatening letters to Morris Dees, the attorney charging Metzger in the case.
Metzger is trying to extract political mileage from his Portland defeat, proclaiming himself a martyr of free speech. He appeared on "Harvey in the Lion's Den" on Channel 2 spouting this line with a couple of dozen nazi-bonehead followers, including Geremi Rineman, who was shot and partially paralyzed in a racial altercation in the San Fernando Valley several months ago.
Metzger's legal problems are far from over. He, Richard Butler of the Aryan Nations in Idaho, and several co-defendants are facing trial in Los Angeles on charges arising from a triple cross-burning carried out by WAR, the KKK, the Nazis and Aryan Nations more than 7 years ago. The case was kicked out of court twice by judges impressed by Metzger's free speech claims, but that decision has been overturned on appeal — to late to save the lives of the people killed by several of the co-defendants, including Jewish talk show host Alan Berg and a Missouri state trooper, after they became federal fugitives.
Metzger is scheduled for a hearing in the L.A. Superior Court, Dept. 105, on January 11, at which time a new date will probably set for trial on the cross burning, which took place in Sunland in Dec. 1983.
Racists vandalized the Laguna Hills home of a Black family in November. Delano Da Silva, whose home suffered thousands of dollars in damage and was spray-painted inside with racial slurs, most of them mis-spelled. Da Silva, who had previously been thinking of moving with his family to Atlanta, vowed he would not be intimidated out of his home.
In Van Nuys, Grant High was the target of racist vandals, who spray-painted swastikas and neo-nazi slogans on the school. At least one Black student, a Black teacher, the Black assistant principal and the principal, a white man married to a Black woman, received threatening racist letters. Police have arrested Bob Snyder, an 18 year old senior for sending the letters, and suspect him of having vandalized the teacher's home this past June. Bail was set at $10,000.
Two major anti-racist demonstrations are scheduled for January 21, the Martin Luther King Day holiday in L.A. PART is participating in both.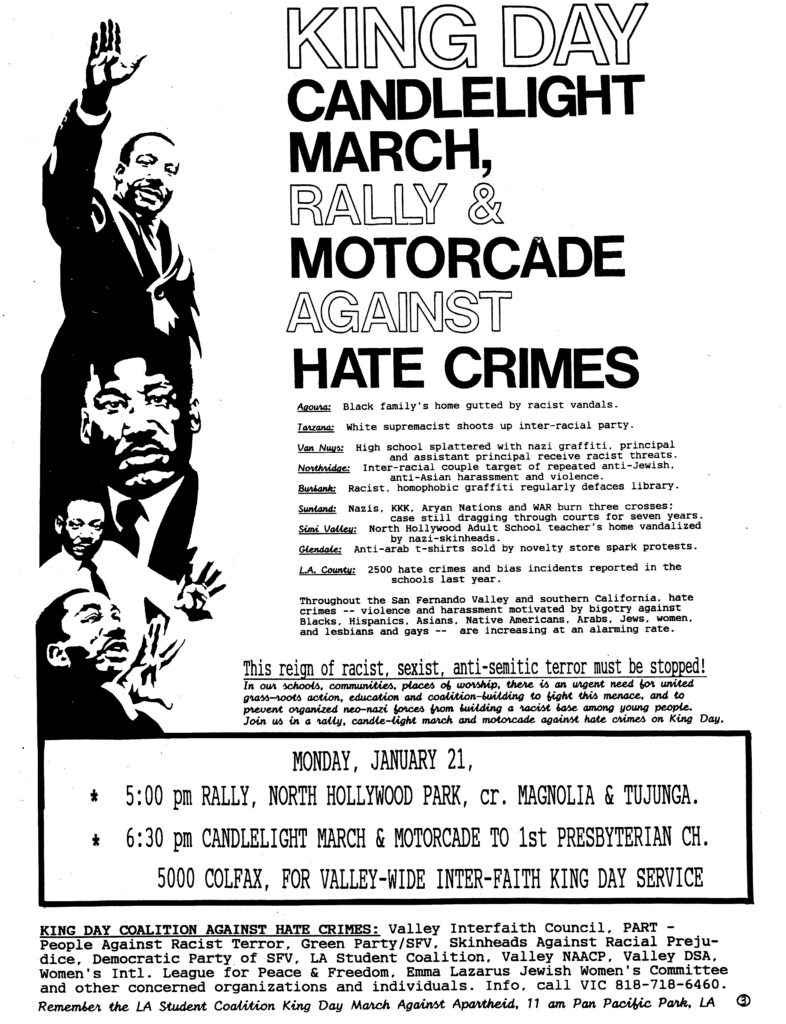 The King Day Coalition Against Hate Crimes has scheduled a candle-light rally and march at North Hollywood Park, Tujunga and Magnolia, beginning at 5:00 p.m. Earlier the same day, the L.A. Student Coalition is holding its fifth annual King Day anti-apartheid march, who demands this year also include an end to racism and hate crimes at home, and for peace and justice in the Middle East and Central America. The march will gather at Pan Pacific Park in the Fairfax area at 10:00 and set off for the South African consulate in Beverly Hills at 11:00. (See more information elsewhere in this issue.)