LAUSD Teacher Dara Bloom – Sugar Mama of British Neo-Nazis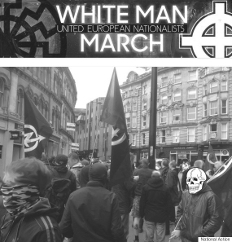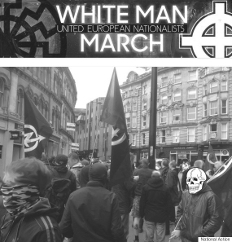 by James Poulter
In August 2017 a gaggle of young neo-Nazis cowered in a lost-luggage storage area in Liverpool's Lime Street Station. They'd just been surrounded by angry anti-fascists and locals who were preventing a planned fascist march through the city to the Pier Head. Moments earlier anti-fascists had been showering the neo-Nazi crew with liquids, eggs, bottles and bananas, while shouting verbal abuse. Outside the station, small groups of neo-Nazis were being surrounded by anti-fascists who beat them, leaving several requiring hospital treatment. One suited and booted neo-Nazi was drenched with milk. Others were forced to sprint through the backstreets of an unfamiliar city to escape. Videos of the day's events got millions of views online.
Most of those who turned up in Liverpool for the "White Man March" belonged to National Action (NA) — an openly neo-Nazi youth organization, notorious for producing virulent anti-Semitic and racist propaganda. Again this year members of NA have been involved in violent clashes surrounding an anti-immigration march in Dover at the end of January. Several weeks earlier the group held a flash mob in a Newcastle, at which a busker was assaulted. They held a banner emblazoned with the slogan, "Hitler was right." One of the group's speakers at the flash mob has been revealed to be a sex offender who had been jailed for tying up and then sexually assaulting a young man with learning difficulties. In the middle of February the group returned to Liverpool where they were again the catalyst for violent clashes between themselves and local residents objecting to their presence.
NA are a collection of racist loners and outcasts drawn together through the internet by former young British National Party (BNP) activists. They're the type of neo-Nazis who talk about taking psychedelics and listen to hardcore punk featuring Enoch Powell samples. They go on camping trips where they practice street fighting, learning about runes and the racist conspiracy theories they use to interpret the world. Over the past few years the group has repeatedly hit the headlines and grown substantially. NA has gone from two founding members (exposed in the Sunday Mirror for wanting to ethnically cleanse the UK) to claiming a membership of nearly 100.
Only one of the founders has been able to find work since being exposed, and only after dropping out of a degree course at a top UK university. The other is a relatively talented graphic designer who has struggled to find work and spends his days in his room on the internet, producing a lot of the graphics used by the British far-right. One member sent anti-Semitic abuse to a Member of Parliament, was jailed and now also struggles to find work. Another was a photographed at the front of a rioting neo-Nazi mob in Dover. In short, these are some really nasty, really fucked up young people. They want to set up death camps and regularly joke about genocide.
TTT is now exclusively revealing the identity of one of the main backers of NA: a middle-aged LAUSD special education teacher named Dara Leigh Bloom, formerly of Texas. Bloom has supported the group since its inception, paying for and setting up the group's website, which is used to broadcast its message of race hatred. Bloom once estimated she had given NA close to $1,000 (the figure may now be higher) used in producing banners and stickers with which the group spreads their neo-Nazi ideas.
At work Bloom teaches classes of children with special educational needs in Sylmar, in the northern part of LA County and LAUSD, where the population is more than 2/3 Mexicano and Meso-American. But she also maintains a highly secretive online presence, using a variety of pseudonyms. In the murky world of far-right social media she posts racist comments about her work and mixes with members of the extreme neo-Nazi groups she participates in and supports. She was once a lawyer in Texas, and apparently became a far-right and then racist activist through her involvement in fighting foreclosures and "banksters" after the 2008 Great Recession.
I asked Alan Richardson, a veteran member of London Anti-fascists, what kind of impact Bloom's support had on NA. They said: "The expertise and financial support Bloom provided is believed to have had a significant impact, allowing it grow more rapidly." Richardson explained how important the website Bloom set up for NA, was to their development: "[NA's] website is the main channel they use to communicate to the world. Due to their extreme propaganda many of their Facebook pages and Twitter accounts have been removed due to contravening community standards. Their website is fundamental to disseminat[ing] their hate propaganda." Richardson also thought Bloom's money may have been used to fund banners; saying: "On far-right and neo-nazi demonstrations in the UK that National Action have participated in, they display large, professionally produced printed banners. It's a clear link that they have had and have a source of funding to finance this."
Richardson went on to describe how seriously NA should be taken, saying: "NA is an attempt to bring a new strain of neo-Nazi street movements to the UK. They've been influenced by the shift of neo-Nazi movements in Europe toward gaining influence in subcultures, often appearing to be anti-establishment and appealing to vulnerable youths. This is a new occurrence in the UK, after failed attempts in the past to mimic anti-capitalist and anarchist aesthetics. Their brand of "cool" and glossy propaganda, professionally made promo videos with drum and bass soundtracks combined with extreme, unashamedly Hitlerite and Nazi rhetoric, pose[s] a danger to the left, migrants and progressives if they continue to grow."
Bloom first surfaced as a key supporter of the American Nationalist Network, an Internet radio station broadcasting neo-Nazi propaganda. In one of her regular online feuds with fellow neo-Nazis, Bloom had her identity revealed and was accused of having Jewish ancestry. Accusing political opponents of being Jewish can be damaging in the virulently anti-Semitic online world of neo-Nazi politics, and so happens fairly frequently. The only evidence appears to be Bloom's surname; she denies the claim and I have been unable to find any evidence to support the claim. During the course of this particular online feud, the allegations were shared by NA member and "White Man March" organizer Wayne Bell, 35, from Castleford. In response, Bloom defaced the NA website and went on a bizarre rant in which she revealed the full extent of her support for the neo-Nazi youth group.
Bloom posted: "I figure you idiots above, excluding Ben [Raymond, NA leader], Terry [Miles, then NA London organizer] and Charlie, have no privacy concerns because you have neither jobs nor children. Let me make this very clear to you shitheads. I own this website. I've given about a thousand bucks to National Action so you assholes can march around and feel self-important. I have promoted you endlessly on social media. I set this up for Alex [Davies, NA co-founder]. I don't know any of you. And I wouldn't have done this for any of you. And I owe you nothing. If I had known there was a change in leadership, we would have had a chat regarding security. Now, Charlie and I are working some things out and you asshats aren't helping, so STFU. And I don't need any lip from British ghetto trash Peter J Knox, Mark Jameson, James Mac, Grace O'Malley, a special Fuck you to William Tait. And if you don't like it, get your own F*ing website. "Nut her." Really, Grace O'Malley? Bring it."
So Bloom reveals that she set up the website for NA co-founder and early leader Alex Davies from Wales. Davies had briefly stepped back from the organization following a tabloid expose which led to him being kicked out of a prestigious university where he had been reading politics. Davies had been replaced as leader by the other co-founder, Ben Raymond. With the group's website defaced Raymond had to contact Bloom and reach an agreement to keep the website online. I think NA now have control of the website, although the domain name which was registered in September 2013, presumably by Bloom, does not appear to have been transferred to a new owner according to public records.
I contacted Raymond by email to ask him about NA's position on children with autism, Down Syndrome and learning disabilities – the type of children Bloom teaches, and has a duty of care for at Sylmar HS. He responded with an obtuse thought exercise in which he endorsed Nazi "racial hygiene" policies, which saw 100s of 1000s sterilized and tens of thousands murdered. Enacting these policies gave the Nazi regime the technical knowledge which formed the basis for the Holocaust in which millions died, including up to six millions Jews. In the course of the interview Raymond described the "racial hygiene laws" as "humane" and referred to disabled children as "subhuman" and "unfortunate creatures."
Bloom's support for NA and Raymond raises questions about how she treats the children she teaches. Sylmar, where Bloom works, is diverse, and Bloom frequently makes disparaging remarks about this on social media. I have seen comments she has made where she has describes Muslims as "goat fukkers," called for Mosques to be burned, compared black women to animals and called them "disgusting." Bloom has also described southern L.A. as a "barrio". Her take on the Charleston church massacre was: "Am I sorry that some negro bible ladies are dead? Not so much. Am I sorry that a white boy threw away his life on a soft target? Nah. I am disappointed that he didn't pick better, more deserving targets. Idiot Coward."
In a post I've seen she has said: "we need more professionals – educated infiltrators to break the system. I applaud the leaflers [sic] and demonstrators (which I do when I can), to effect change, but there needs to be an assault on many fronts.". In another she describes her activity and the extent to which she backs neo-Nazi organizations: "I do go to anti-illegal immigraiton [sic] protests and wave my sign, as well as subvert the system in every way I can as a public employee, I also support pro-white groups as much as possible. Who do you support? Five, ten dollars?? National Action (UK) has been my pet project for several years. ANN is my US fave." Is it possible someone could make these arguments online and then not take their race hate to work?
Over the past year NA have been increasingly referencing "The Turner Diaries," written by prominent US neo-Nazi William Pierce, in their propaganda. Described as a bible for the racist far-right, the book tells the story of a neo-Nazi uprising and revolution in the US, and inspired Timothy McVeigh's Oklahoma City bombing. In it, after a string of neo-Nazi terror attacks, California falls to the insurgent racists and "The Day of the Rope" is held. Tens of thousands "race criminals," women who slept with black men, or people who contribute to a multi-racial society through their work, are lynched and hanged with placards around their necks reading, "I defiled my race." Bloom's work at a school which teaches Black and Brown kids with learning disabilities would surely make her eligible for a lynching, unless she justifies it as carrying out secret racist subversion from within.
Bloom's support for the British NA launched a period when they started to grow rapidly. When Raymond was contacted and asked about Bloom's support for NA he did not comment. Bloom did not respond to requests to comment. I asked the LA Unified School District, which runs Sylmar High, if it thought Bloom was a suitable teacher for children with special educational needs. In an emailed response a spokesperson said the district has no comment and that "all personnel issues are confidential."