TTT Vol. 4 #6, Nov.-Dec. 1991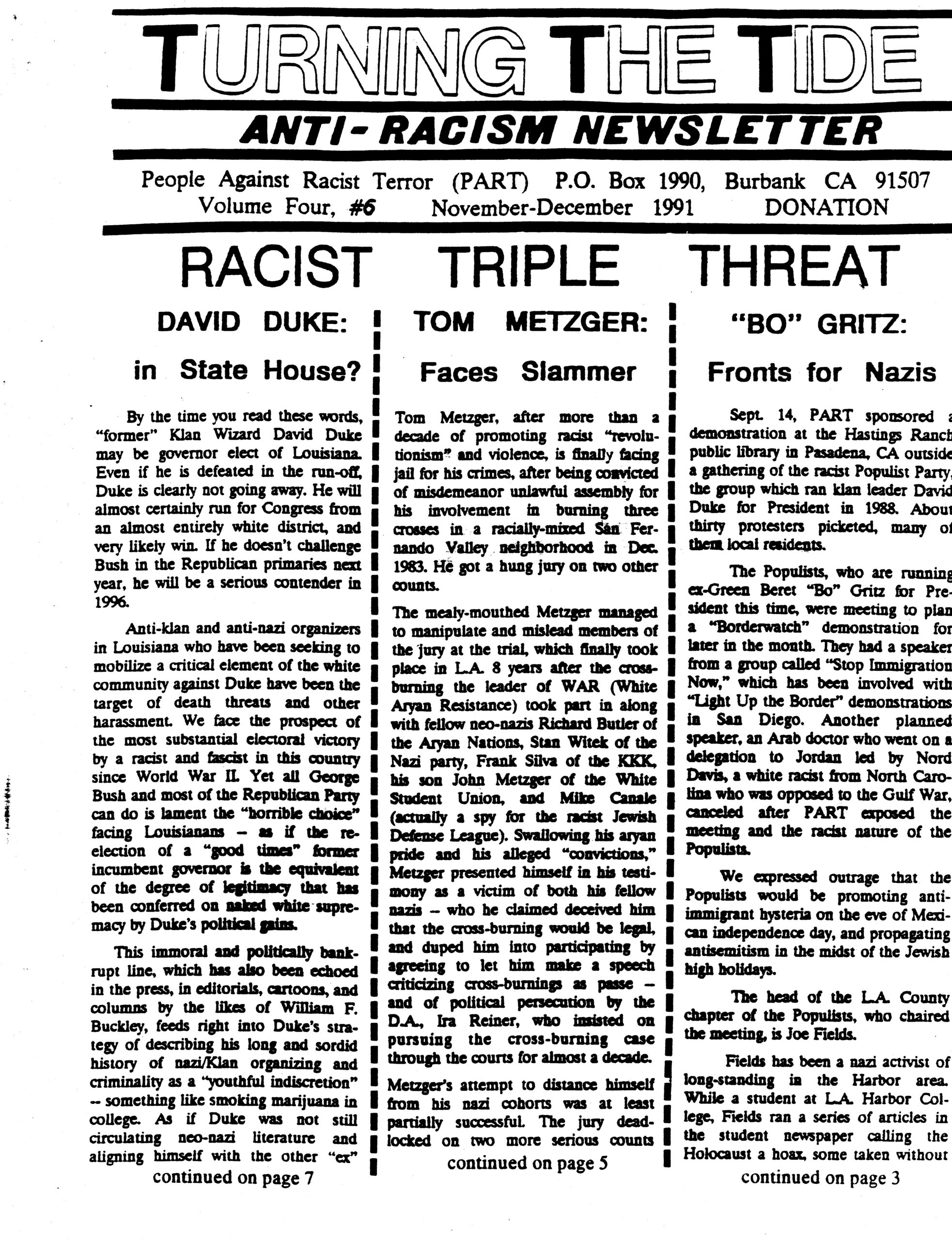 RACIST TRIPLE THREAT
DAVID DUKE IN THE STATE HOUSE?
By the time you read these words, "former" Klan Wizard David Duke may be governor elect of Louisiana. Even if he is defeated in the run-off, Duke is clearly not going away. He will almost certainly run for Congress from an almost entirely white district, and very likely win. If he doesn't challenge Bush in the Republican primaries next year, he will be a serious contender in 1996.
Anti-klan and anti-nazi organizers in Louisiana who have been seeking to mobilize a critical element of the white community against Duke have been the target of death threats and other harassment. We face the prospect of the most substantial electoral victory by a racist and fascist in this country since World War II. Yet all George Bush and most of the Republican Party can do is lament the "horrible choice" facing Louisianans — as if the re-election of a "good times" former incumbent governor is the equivalent of the degree of legitimacy that has been conferred on naked white supremacy by Duke's political gains.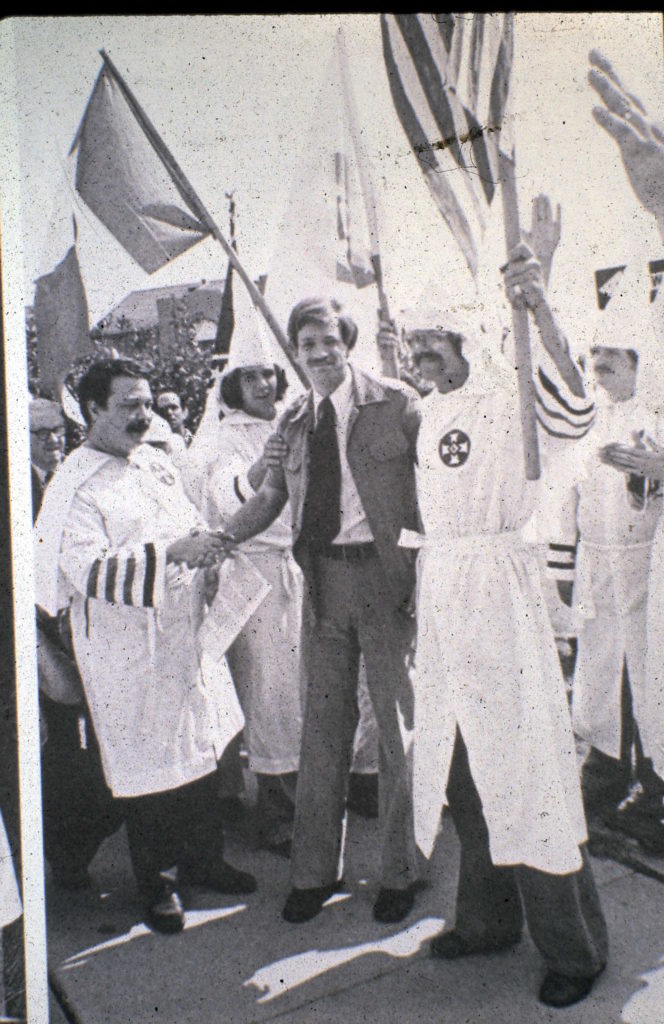 This immoral and politically bankrupt line, which has also been echoed in the press, in editorials, cartoons, and columns by the likes of William F. Buckley, feeds right into Duke's strategy of describing his long and sordid history of nazi/Klan organizing and criminality as a "youthful indiscretion" — something akin to smoking marijuana in college. As if Duke was not still circulating neo-nazi literature and aligning himself with the other "ex" nazis and Klansmen in the Populist Party as recently as two years ago, after his election as a Republican to the Louisiana legislature.
Bush is not only politically responsible for nurturing Duke's ascent into political legitimacy through his coded anti-Black campaigns against Willie Horton and "quotas." The Republican party is directly responsible for Duke reaching the run-off by running their own candidate against born-again Republican governor Buddy Roemer, thereby siphoning off enough votes to allow Duke to slip past him into second place. Despite the hand-wringing, the Republicans don't really consider Duke a problem. Their only problem is how to embrace him without being too open about it.
TOM METZGER FACES SLAMMER FOR CROSS-BURNING
Tom Metzger, after more than a decade of promoting racist "revolutionism" and violence, is finally facing jail for his crimes, after being convicted of misdemeanor unlawful assembly for his involvement in burning three crosses in a racially-mixed San Fernando Valley neighborhood in Dec. 1983. He got a hung jury on two other counts.
The mealy-mouthed Metzger managed to manipulate and mislead members of the jury at the trial, which finally took place in L.A. 8 years after the cross-burning the leader of WAR (White Aryan Resistance) took part in along with fellow neo-nazis Richard Butler of the Aryan Nations, Stan Witek of the Nazi party, Frank Silva of the KKK, his son John Metzger of the White Student Union, and Mike Canale (actually a spy for the racist Jewish Defense League). Swallowing his aryan pride and his alleged "convictions," Metzger presented himself in his testimony as a victim of both his fellow nazis — who he claimed deceived him that the cross-burning would be legal, and duped him into participating by agreeing to let him make a speech criticizing cross-burnings as passe — and of political persecution by the vengeful D.A. Ira Reiner, who insisted on pursuing the cross-burning case through the courts for almost a decade.
Metzger's attempt to distance himself from his nazi cohorts was at least partially successful. The jury deadlocked on two more serious counts against him, including a felony conspiracy charge, while convicting his remaining co-defendants on all counts. Stan Witek, Brad Kelly and Erich Schmidt face up to four years in prison; Metzger at this point is only looking at six months in jail.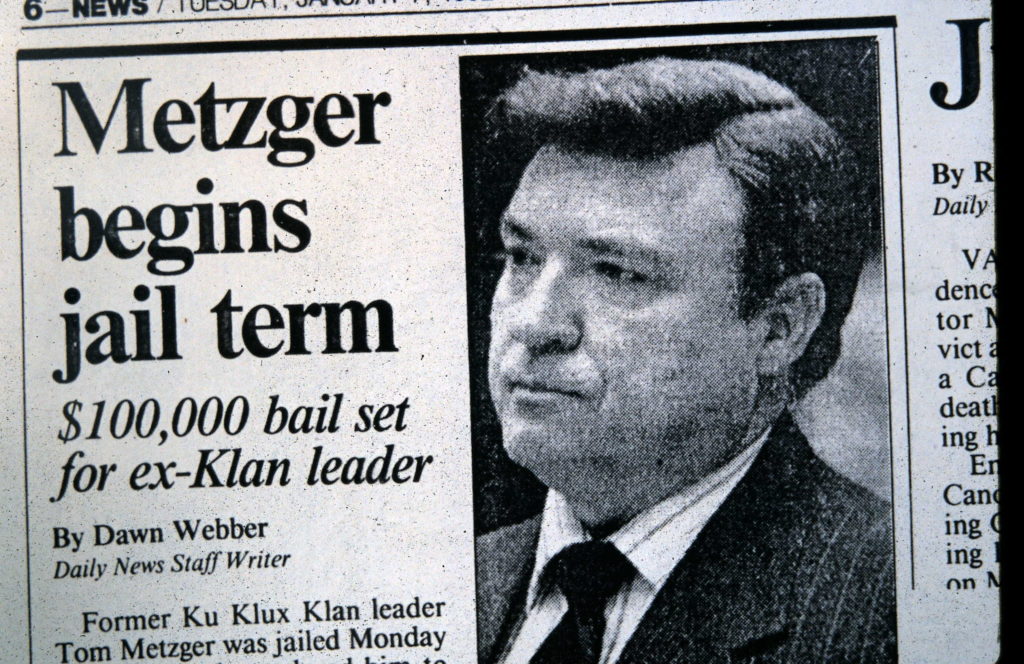 L.A. law enforcement had some of the biggest fish of the white supremacist movement in the U.S. in their hands in December 1983, following the L.A. cross-burning, which united the Klan, the Aryan Nations, and the nazis, along with Metzger's WAR organization, in a criminal conspiracy. Yet the D.A., who refused to press charges, the cops, who botched the arrest reports, and a couple of misguided judges who dismissed the charges let them swim away. This shameful refusal to enforce the law against racist terror led directly to the reign of terror carried out by at least four participants in the cross-burning, who became part of the underground para-military "Bruder Schweigen" (Silent Brotherhood), a clandestine racist group nicknamed "the Order" after a similar group in a racist novel.
The Order killed a Jewish radio host, and robbed banks and Brink's trucks. They plotted other assassinations and destruction of the power grid in the northwest to foment chaos and race war. One of Metzger's original co-defendants, David Tate, killed a state trooper while a fugitive from federal charges after he was let off the hook for the cross-burning. Metzger and his son John (who got released to his mother as a minor after participating in the L.A. cross-burning) were eventually found liable for civil damages in the killing of an Ethiopian refugee by some of their nazi bonehead followers. So these convictions are long overdue.
For Metzger, in particular, the single misdemeanor count is too litle, too late. The D.A.'s office should refile the two counts on which the jury deadlocked and seek a new trial. Metzger's disingenuous testimony, in which he pretended to have been urging young whites to participate in politics instead of cross-burnings, when in fact he was promoting race war and "revolution" against race traitors and the "Zionist Occupational Government, should be closely examined for the possibility of a perjury prosecution. Charges against Richard Butler, which have long been pending, should be pressed in the wake of the generally successful prosecution of the remaining at-large cross-burners.
As came out in the trial, the KKK under Frank Silva had been agitating in the area for months before the cross-burning, leafletting on the street in their robes. Silva had been denied fire permits at least twice before the cross-burning, for which he used a permit for a barbecue. (The cross-burners had a single pork chop available for this purpose.) Anti-klan demonstrations were held outside the local firehouse and the Sunland-Tujunga municipal building to make sure that no permit was granted. (At one of these, widely publicized at the time in October-November 1983, prior to the cross-burning, the JDL showed up, alerted by their plant inside the nazis, and attacked the anti-klan demonstration, shouting racial slurs at African American protesters while Silva, Canale and their klan-nazi followers stood by laughing). It is ludicrous to believe that Metzger, who had long standing close ties to Canale's leader, Stan Witek, and a long-standing feud with the JDL's Irv Rubin, was unaware of these developments.
In fact, Metzger at that time was claiming to have abandoned the Klan, and had run for Congress in San Diego (winning the Democratic nomination) and the U.S. Senate in CA, winning 84,000 votes statewide in the primary in 1982. He was in the process of converting those electoral advances into a state-wide and national racist apparatus, WAR, through his newsletter and cable TV show "Race and Reason." He was also cementing his "third position" neo-nazi ideology, which called for a violent takeover of power by "racially-conscious Aryans" opposed to both the left and the "kosher conservatives."
The impetus to cause him to blow the cover of his three-piece suit by participating in a triple cross-burning with robed Klansmen and open nazis must have been very strong indeed. And what brought "Pastor" Butler back down to L.A. from his para-military compound in Idaho? It is within the realm of possibility that the L.A. cross-burning represented the cementing of the alliance that gave birth to the Order and its reign of terror. At least four of the cross-burners participated actively in the Order's crimes and are serving long prison sentences. A book about the Order based on lengthy interviews with participants, attributes its "declaration of war" to the concern of founder Robert Mathews over the arrests of Butler and Metzger at the L.A. cross-burning. A central participant in the Order gave a deposition that some of the money they stole, never recovered, went to Metzger and a few other public white supremacists (an admission he later recanted).
Call Assistant District Attorney Dale Davidson, 213-974-3797, and urge that all remaining charges be pressed against Metzger and Butler. Justice can best be served by putting these racist terrorists behind bars where they belong.
"BO" GRITZ FRONTS FOR NAZIS
Sept. 14, PART sponsored a demonstration at Hastings Ranch public library in Pasadena CA outside a gathering of the racist Populist Party, the group which ran Klan leader David Duke for president in 1988. About thirty protesters picketed, many of them local residents.
The Populists, who are running ex-Green Beret "Bo" Gritz (rhymes with sites) for president this time, were meeting to plan a "Borderwatch" demonstration for later in the month. They had a speaker from a group called "Stop Immigration Now," which has been involved in :Light Up the Border" demonstrations in San Diego. Another planned speaker, an Arab doctor who went on a delegation to Jordan led by Nord Davis, a white racist from North Carolina who was opposed to the Gulf War, cancelled after PART exposed the meeting and the racist nature of the Populists
We expressed outrage that Populists would be promoting anti-immigrant hysteria on the eve of Mexican Independence Day, and propagating antiSemitism in the midst of the Jewish high holidays.
The head of the L.A. County chapter of the Populists, who chaired the meeting, is Joe Fields.
Fields has been a nazi activist of long standing in the Harbor area. While a student at L.A. Harbor College, Fields ran a series of articles in the student newspaper calling the Holocaust a hoax, some taken without attribution from right-wing publications. He met on campus with Tom Metzger to plan the distribution of "Holo-hoax" material.
Later, openly acknowledging his nazi affiliation, Fields joined three other nazi party members in wearing swastikas into an Octoberfest celebration at a German restaurant. When the nazis were expelled after refusing to remove the nazi regalia (aedd because they had vandalized the bathroom with nazi graffiti on a previous visit), Fields sued, represent& by the ACLU, and won. PART has a tape of Fields referring to his defenders as the "ACL-Jew" and admitting his admiration for Hitler, calling Jews parasites who "deserve anything they get," even extermination.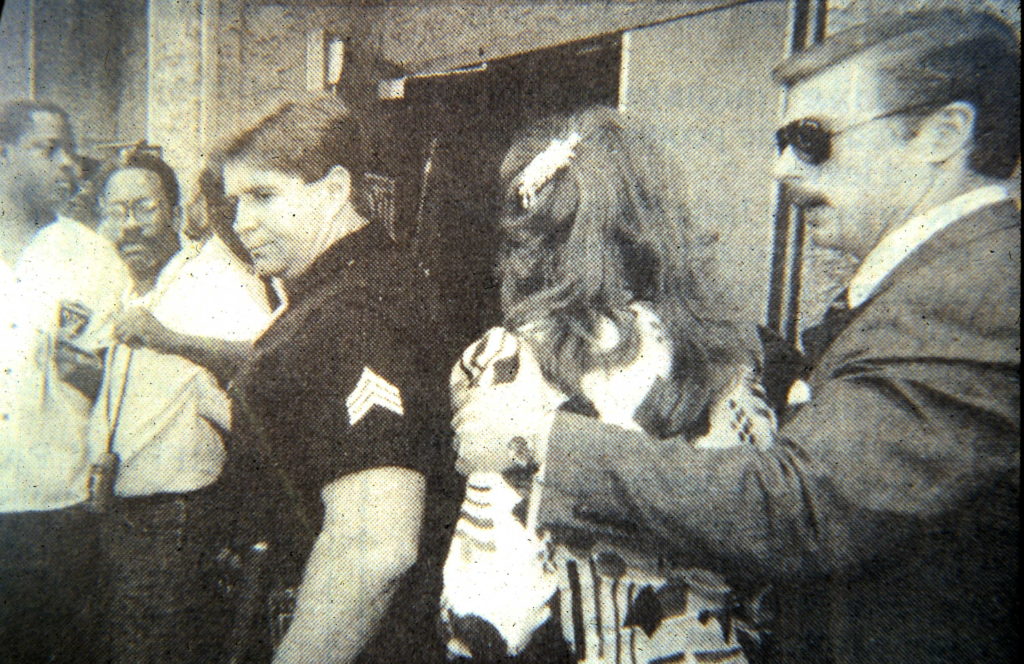 One of Fields's co-plaintiffs in the swastika case, nazi party chieftain Stan Witek, has a record for weapons and assault charges and was just convicted for burning three crosses in LA with Tom Metzger.
Fields himself got into a brawl with Jewish activists at a City Council action in 1988 on the swastika case. After "leaving" the nazis, Fields was closely associated with the Institute for Historical Review, set up to cast doubt on Hitler's genocide by Willis Carto, publisher of the Spotlight and founder of the Populist Party.
Fields is not the only open white supremacist in the leadership ranks of the Populists. National director Don Wassall, currently engaged in a faction fight for control of the party's purse-strings with Carto, reprinted racist material from the white supremacist National Denocratic Front in the Populist paper.
Dennis Hilligoss, a former Klan leader in the San Fernando Valley, became the contact person for the Populisms in the San Fernando/Simi area, where last year the Populists conducted a party meeting in celebration of Hitler's birthday.
In recent months in southern Califomia, the Populists have brought John Tyndall, the head of the British neo-nazi National Front, out to speak in Orange County. They also sponsored a conference which featured Evan Mecham, the impeached gover-nor of Arizona who refused to accept the Martin Luther King holiday. Mecham has joined forces with backers of fundamentalist televangelist Pat Robertson to take over the Republican Party in his state. Among the participants at that Populist parlay was Kim Badynski, héad of the virulent Northwest Knights of the Ku Klux Klan based in Washington State.
Robert Weems, the first national chair of the Populisms and a former Missis-sippi Klan orator, says the Populists have a tripartite policy which he described as similar to that of Lyndon LaRouche (another neo-nazi supported by Carto): maintain their own party structure while running candidates in both the Democratic and Republican primaries as opportunity presents itself.
This is exactly the strategy followed by Klan leader Duke, who proceeded his Populist run with a stint in the Democratic primaries, then followed it with his successful capture of the Republican nomination and a seat in the Louisiana state legislature and is now in a position to become governor of Louisiana. The Pasadena demonstrators pointed out that Duke got more than 10% of his funding for the Louisiana run from California, based on the support he built through the Populist candidacy.
"Bo" Gritz, the party's current nominee, appears to have followed a similar strategy. Gritz, who has gained a substantial following and a measure of credibility on the left with his exposes of CIA involvement in the heroin trade, actually accepted the Populists' vice-presidential nomination in 1988. Then he dropped out to run in the Republican congressional primary in his home state of Nevada, but he told the Populists he would carry their platform into the election. Now he has cemented his open association with the Populists despite their nazi taint.
In his campaign literature, Gritz uses such neo-nazi code words for Jews as "seditious bankers and (satanic) globalists." He calls for control of the borders to "halt the illegal and legal immigration that is turning America Into a Third World country." This is openly racist anti-immigrant hysteria. He demands an end to affirmative action, and uses the same anti-Black code words as David Duke in denouncing 'legitimate welfare children." Calling Jesus Christ our "Sovereign," Gritz issues a call to revive America as a "great Christian Nation." Full of militaristic rhetoric demanding an end to "this country's decadent, degenerate ways," Bo Gritz's campaign propaganda and his candidacy is an invitation to anti-gay, anti-woman, antisemitic and racist violence.
PART is planning a continuing campaign against Gritz and the Populists, who have announced their intention to continue meeting at the Pasadena Library. Gritz has been getting a lot of air time on KPFK here in and other Pacifica stations and his material has been reprinted and promoted by the progressive oriented conspiracy catalog from Prevailing Winds Research in Santa Barbara. The PWR promo for Gritz's literature includes a pamphlet by Eustace Mullins, a long-time antisemite and one-time supporter of the Italian fascist connections of Ezra Pound.
For more information about the campaign to oppose Gritz and the Populists, contact PART, People Against Racist Terror.
LETTERS TO PART, UPDATES
Dear TTT:
Oi, fellow anti-racist brothers and sisters! My name is Shadow, and I'm a 20-year-old skinhead girl from San Antonio, TX. I've read a lot of your newsletters and I'm interested in receiving more. Down here in San Antone, bone-heads are starting to make an uprise. I don't want any more of their b.s. to happen, like when they tried to jump a 16-year-old rude boy for his braces, or held a knife to another skin's neck, trying to get a bunch of anti-racists' addresses!
I travel and network around Texas, and I also network out of the Texas area. I'm in need of support and information A.S.A.P.! All you anti-racists, please write as soon as you can. Another problem is, I'm literally a two-tone skin in boots and braces, and that doesn't coincide very well with all the confederate flags and cowboy boots and hats down here in the southern and southwestern states. So your support is much needed. Write soon!
2 True,
2 Rude,
2 Tone!
Shadow,
San Antonio TX
78201
Dear PART —
Thanks for publishing my last letter. Recently, one of the leaders of the Boricuan Popular Army for Puerto Rican independence (nicknamed "Los Macheteros"), Filiberto Ojeda Rios, who was accused of stealing several million dollars from Wells Fargo and is now wanted by the F.B.I., was interviewed by a local news reporter. The F.B.I. is trying to force her to tell them where Ojeda Rios is located. Even though she's protected by the Constitution, the F.B.I. is threatening her with prison if she doesn't talk and reveal his whereabouts.
I hope that by your publishing my letter, more people in the U.S. become aware of things that happen here that go unnoticed in the mainland.
Thanks,
Daniel Rivera
Ponce, Puerto Rico
Dear folks,
Just received the latest issue, and thought it was high time I told you I'm getting them regularly, and gladly so. They get passed throughout the Control Unit here.
There is an ever increasing racial and political repression here at Trenton State Prison, and it's vitally important that we have access to information that makes it clear our situation isn't isolated from what's going on outside, nationwide.
New Jersey has increased the control units from one to 3 in the past year. Of the 72 prisoners in these units, all are Black except for 4 white and 3 Spanish-speaking inmates (a Mexican and two Puerto Ricans). NJ also opened another control unit at Rahway Prison in the eastern part of the state. They're building a fourth maximum security facility at Mannington in the south. Add to that Vroom, a "re-adjustment" center on the grounds of the state hospital that is run like Marion Prison which you reported on.
Oklahoma just built a control unit that is entirely underground except for the administration offices. Massachusetts just opened a maxi-maxi unit like the one at Pelican Bay CA, where prisoners are completely isolated from each other, and only moved individually by three guards at a time.
Just as the Black liberation struggle was coupled with the anti-war movement in the 60's and early 70's, I think people should realize that an anti-prison movement needs to come into existence and align itself with anti-racists. We need to recognize the nexus and form a united front.
I commend you on your work and look forward to seeing you long into the future.
In struggle,
Tom Manning,
political prisoner
Trenton NJ 08625
PART REPLIES:
Dear Tom:
Thanks for your support. We often feel that our efforts are miniscule, but we know that many people pass along TTT, and reprint and reproduce stuff.
It's been said you can judge a society by its prisons, and if so, the U.S. is condemning itself at an escalating rate. We think it's vital for anti-racists to concern ourselves with prisons and prisoners, because this country is rapidly becoming not merely a police-state, but a prison- or garrison-state. In the controversy here in L.A. over the Rodney King beating, for example, police chief Gates seriously proposed that the solution was for the police department to run classes for people in the community on how to get arrested. The U.S. has the highest incarceration rates in the world, mostly and disproportionately people of color. Recent bloody prison rebellions in the southeast and northwest have raised barely a ripple of attention in the media; even less on the left. Meanwhile, the racist right tries to build its ranks among white prisoners. We cannot allow the repressive forces of the government to succeed in their racist strategy of "out of sight, out of mind."
CALENDAR OF UPCOMING ACTIVITIES:

Saturday, Nov. 9, 1991, 7:30 AM
PART spokesperson Michael Novick will be a guest on KPFK-FM 90.7 featuring a call-in regarding "Bo" Gritz and the racist Populist Party.

Monday, Dec. 2, 12:00 noon:
Demonstration outside the criminal courts building, 210 West Temple, L.A. for the sentencing of Tom Metzger, Stan Witek and their nazi cohorts for the Dec. 1983 triple cross-burning in Lake View Terrace. This date marks the 8th anniversary of their act of racist terror, and the beginning of the Jewish holiday of Chanukah. Meet in the courtroom in the morning.

UPDATE ON HATE
Simi Valley, June:
The Canoga Park Alabama gang of 20 nazi boneheads attacked a 16 year old who tried to stop them from harassing a friend, according to Klanwatch.
Pomona, July:
An inter-racial couple's home was extentisively vandalized.
Anaheim, September:
When authorities allowed a Euro-American Club to form, white supremacists sent congratulatory messages. But the club is in fact multi-racial; its leader is half-Arab, and the group wants nothing to do with the racists.
Canoga Park, September:
An off-duty L.A. cop shot and killed a 25-year-old construction worker after a brawl outside a party that had been disrupted by fighting involving members of the Mickey Mouse Club, a white gang that used to rumble with the Reich Skins.
L.A., September:
Members of the racist Populist Party, running a table distributing neo-nazi propaganda at an appearance of Populist presidential candidate Bo Gritz, harass an anti-racist organizer leafleting the crowd.
San Bernardino, September:
T.J. Leyden, an ex-marine associated with the Nationalist Skinhead Knights in Yucaipa, tried to put Tom Metzger's "Race and Reason" show on cable-tv. A gay teacher and a handicapped student were attacked last year at Yucaipa High, and racist flyers stuffed into lockers.
Sylmar, October:
A Jewish woman's home was vandalized and spray-painted with anti-semitic grafitti, provoking neighbors and concerned groups in the north San Fernando Valley to mobilize against hate crimes.
Burbank, October:
A gay man was stabbed leaving a gay bar, and "Kill Homos" was spray-painted on its outside wall.
Tujunga, October:
The Verdugo Hills Hebrew Center synagogue was damaged, and spray-painted with swastikas and the slogan "have a nazi day!"
Northridge, October:
Two different flyers threatening violence against gay men and lesbians who had recently organized SQUISH — "Strong Queers United In Stopping Homophobia." The flyers offered to pass out free baseball bats for gay-bashing. Other recent hate crimes on the campus include the placing of swastikas on a Jewish shelter in September and defacing of Chicano studies bulletin boards earlier in the year.
Stanton, October:
A 17-year-old nazi bonehead who was guilty of a brutal attack on an Asian student in July, broke out of Los Pinos Forestry Camp, where he was serving a nine-month juvenile sentence. He stole a truck but was captured after a chase by the CHP and L.A. Sheriffs. He was re-sentenced to 4+ years with the California Youth Authority. Eight other members of the Crazy Fucking Aryans/Confederate Front of America nazi-bonehead gang are also doing time for the attack.
L.A., October:
Deputy Sheriff Brian Kazmierski, who was reinstated to the department by Sheriff Sherman Block after burning a cross inside the county jail, was let off the hook again when the D.A. decided not to press charges against him for killing a Mexican national who had been shooting off a gun to celebrate New Year's Eve.
Sunland, November: A trial is scheduled to begin in the case of a white man who fired gun-shots into the home a Black neighbor in a campaign of harassment that included vandalism to cars and BB pellets fired at windows.