TTT Vol. 8 #3 Fall 1995 (magazine format)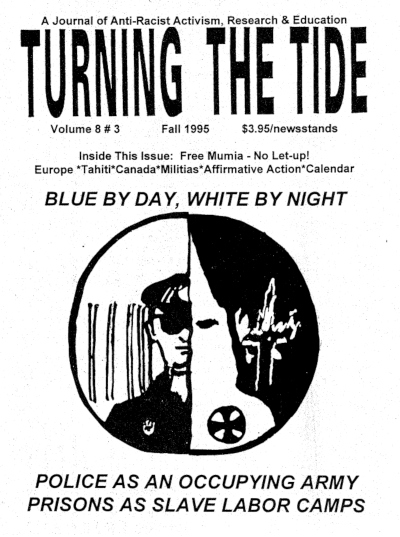 BLUE BY DAY, WHITE BY NIGHT
The blatant white and male supremacist expressions and actions of LAPD Detective Mark Fuhrman, which mesmerized the country and embarrassed the L.A.P.D. and D.A. in the Simpson trial, cannot be brushed off as simply the aberrant or exaggerated beliefs of one bad apple. First of all, Fuhrman clearly put his beliefs into practice. His accounts of brutality on the tapes correspond with recorded incidents of racist police abuse complaints against him. Mexicanos he brutalized in 1978, who filed complaints against him and identified him at the time, with no response from the L.A.P.D., have come forward again. An assistant D.A. has reported that Fuhrman allegedly committed an act of anti-semitic vandalism against a fellow cop who married a Jewish woman, and carried nazi memorabilia. Neighbors report that in his youth, he repeatedly harassed the only Black family in the area where he grew up.
But beyond Fuhrman himself, across the country, a recent series of brutal attacks by police on community gatherings of Black, Latino and Asian people has exposed the institutionalized nature of police racism. Simultaneously, extensive evidence of organized police criminality has emerged in Philadelphia, Los Angeles, New Orleans, and other cities, including not only planting evidence, forgery, and racial and sexual harassment, but even murder. Finally, continuing anecdotal evidence has emerged of organized white supremacist involvement and sympathies of law enforcement personnel, ranging from the Good Ol' Boys Roundup of various federal and local cops to the audio-taped comments of Fuhrman in the high-profile O.J. Simpson case.
These cases make clear that racism, sexism, and brutality are systemic problems in policing in the U.S., because the police in this country were designed to act as an occupying army, enforcing the class and racial oppression of a colonial system. These atrocities are not exceptions, but manifestations of the rule that the police function primarily as enforcers of inequality and exploitation, and to feed people into the prisons. They underline the immediate and urgent need for a national campaign to end police impunity and enforce police accountability; to purge law enforcement ranks of all racists; and to exert effective community control over these agencies of occupation and repression. Only such a radical democratic reform, such as proposed by the Black Panther Party in the 1970's, can even begin to address the true scope of this problem.
A brief look at just this summer's developments make it clear that the problem is national in scope. In New York this summer, cops in Queens brawled with Black church-goers in a melee outside a Pentacostal revival that left 36 people injured, including six officers. Seven people were arrested in the brawl at a tent next to the Universal Calvary Church, where more than 600 people had gathered for the revival. A retired cop, Clifford Warsop, 44, invaded the service to look for his estranged wife, who had obtained an order of protection against him. According to the church pastor, Emmanuel Osei Acheampong, Warsop was wielding a gun and was kicked out of the service. Ushers wrestled the gun away from him, then held him until police arrived. When Warsop pointed out to responding officers a man leaving the service as one of his attackers, police tried to arrest the man, provoking a new brawl in which 95 cops eventually took part. Some of the beatings were caught on video.
In a similar incident in Philadelphia, cops storm-trooped in on the largest Black church in the city, Zion Baptist Church, earlier this summer. Police in force raided the church during a wedding, interrupting the service and arresting the groom, who was wanted for missing a court appearance. This invasion was also captured on viedo-tape. Rev. Joseph Patterson told radio station WBAI in NY that "the police went in during the ceremony, started pushing and shoving … They were walking on the pews in the Church. And when they got outside, a larger scene was caused by the police and the way that they had gone into the church, in gear, in their uniforms, to apprehend a person who was wanted by the police. They tried to say that we were against them arresting this fellow. That was not the case. The case was that they violated the sanctity of the Church."
Meanwhile, in Austin TX, a police mob was acquitted of battery against a black woman and her kids in August, as the statute of limitations for administrative discipline ran out six months after a police riot on Cedar Avenue in East Austin, in which innocent black women and children were beaten by cops. On February 11, Ira Bedford had called 911 to ask the police for help. He had tossed out a gang member carrying a gun from a chaperoned Valentine's Day party on the east side of Austin (a black neighborhood). He wanted an officer to "ride through" the neighborhood, just to make sure things were okay. "I've got a lot of kids here and we're not going to have anything going on," he can be heard saying on the police tape. Within a half-hour, 68 cops – more than a third of the police officers on duty in Austin that night – showed up and closed off the street, attacking the party-goers. At least 14 people were maced, beaten, and had guns pulled on them by police. Bedford was hit on his thigh with a night stick, his wife suffered a broken tailbone, and his teenage son and daughter were maced. Three chaperones were arrested. Two officers were treated at the hospital for mace; one of those, according to an eyewitness, was a black officer in uniform who was maced by another officer. U.S. Justice Department investigators ruled in August that nobody's rights were violated.
In a similar Los Angeles incident, however, a court awarded $15.9 million dollars in damages over the summer to members of a Samoan family who had been brutally beaten at a family gathering by sheriff's deputies. The Jury foreman reported that the jurors wanted to send a message to the Sheriff's Department that the agency was responsible for the brutality by maintaining a code of silence among fellow officers that went all the way up to elected Sheriff Sherman Block, who had spoken out in support of the deputies in the case. David Dole was awarded the top individual judgment $3.8 million — after suffering a skull fracture and brain damage at the hands of the police. His brother Tafi Dole, who had been awarded compensatory damages of $170,000, died of heart and kidney problems shortly after learning of the jury's verdict. The incident involved a law enforcement attack on a bridal shower at their father Arthur Dole's home in 1989. After receiving several calls that people were fighting in the street outside the home, dozens of sheriff's deputies showed up in riot-gear, and clubbed and kicked unresisting men and women, some as they lay handcuffed on the ground. Like the Rodney King beating, the sheriff's assault was captured on videotape. Deputies arrested 34 people, but most of the charges were dropped, and a jury acquitted David Dole and three others of riot and assault charges.
This summer in L.A., Officer Michael Falvo shot and killed a 14-year old Mexicano youth in the E. L.A. barrio of Boyle Heights, provoking several nights of rebellion. Mayor Riordan declared a state of emergency. Falvo was one of the "problem" cops, with a long history of abuse and complaints, identified by the 1991 Christopher Commission after the beating of Rodney King. His killing of Jose Antonio Gutierrez, who was shot six times in the back and side, was justified by former L.A.P.D. chief Darryl Gates. Gates had restored Falvo to the force on suspension when, after the Christopher Commission disclosures, Falvo was involved in yet another instance of abuse, and an internal police disciplinary board had recommended he be fired from the department.
Falvo's impunity is a measure of the top-to-bottom nature of the problem. The community, already angered at the police and prosecutor's handling of the killing earlier this year of another Mexicano youth by vigilante William Masters, who shot two Chicanos for "tagging" (spray-painting) a freeway underpass and got charged only with carrying a weapon, understood this clearly when they rose up in three nights of rebellion after the killing, and they have persisted in organizing for justice for the murdered youth, rallying at the police commission and elsewhere.
Meanwhile, beyond the question of lying to cover up their own brutality, evidence has emerged in departments around the country of perjury and falsification of evidence to make cases. The most notorious situation is certainly the tape recorded reminiscences of Fuhrman, who told his screen-writer confidante of instances of cover-ups and manufacturing evidence. But other, less well-publicized cases show the same pattern. Det. Andrew Teague, an 18 year LAPD veteran who was among the 44 "problem officers" identified in the landmark 1991 Christopher Commission report, was recently ordered to turn in his gun and stay home from work for falsifying evidence. Teague admitting forging two defendants' signatures on documents in a murder investigation, and then lying about it under oath in court.
The L.A. district attorney's office is reviewing 3-400 cases handled by Teague since 1982 to determine whether any must be reopened or dropped because of potential evidence tampering. A second 18 year veteran, Det. Charles Markel, also was suspended, for saying nothing. He worked with Teague on seven "gang" cases where the falsifications took place. Two were dropped, and prosecutors are trying to figure out how to pursue five other cases without Teague's phony evidence. A third cop, Det. Ray Doyle, who resigned to avoid Internal Affairs questioning, is facing a grand jury indictment for a separate incident of forging a judge's signature on a warrant, and presumably his other cases will also be reviewed.
Teague, one of 33 "problem officers" (identified by the Christopher Commission more than 4 years ago) who are still on the LAPD, has accumulated 18 citizen complaints. In the four years since being singled out by the Commission, Teague was the subject of two more complaints, yet he got promoted to detective. Yet another L.A. cop is under arrest for soliciting a bribe from a domestic abuse suspect and suspected of murder himself! Doyle, Teague and Falvo operated out of the Hollenbeck Division on the city's mostly Mexicano east side, as did Fuhrman in 1978, when he took part in a bloody beating of residents and a cover up described in his tapes.Despite all these police crimes, the Clinton administration just awarded a massive federal grant to L.A. to hire 648 more cops!
Again, the problem is not limited to L.A. In Philadelphia, Betty Patterson, a 54 year old grandmother who cleaned other people's floors and clothes to keep her family together and now delivers newspapers before dawn with her grandson, was framed by corrupt police officers and spent 3 years in prison in the early 1990's after being falsely convicted of selling crack cocaine. She is one of possibly hundreds of victims of criminal cops who rode roughshod over her poor Black North Philadelphia neighborhood, beating, robbing, lying and planting phony evidence, according to Federal and local prosecutors.
At least 1400 drug related cases are expected to come under review, and the scandal could cost the city millions of dollars in lawsuits. Prosecutors and defense lawyers also say they expect several murder convictions to be reviewed or thrown out as a result of the scandal. The indicted Philadelphia officers were assigned to the 39th District (the same area where the horde of officers invaded the church), but roamed through North Philadelphia. "[Patterson] went to jail for 3 years for something she was completely innocent of," said Lynne Abraham, the Philadelphia D. A. "This whole thing has made me physically ill. This is the ultimate betrayal of the public trust and … justifies people's suspicions of the police." (Abraham refuses to draw the conclusion that a similar frame-up took place in the case of Mumia Abu-Jamal.)
So far, six officers have pleaded guilty in Federal Court. Nearly 50 drug cases they were involved in, including Mrs. Patterson's, have been overturned by the courts and the District Attorney's office. Hundreds more could also be thrown out. Sgt. Thomas DeGiovanni, Officers John Baird, Steven Brown, Louis Maier and James Ryan, and former officer Thomas Ryan, 38, who is on disability, are scheduled for sentencing in October. Facing severe punishments, the cops are finally breaking their code of silence, ratting out their fellow officers in hopes of leniency. There are reports that more officers will be charged soon.
Indictments are expected to include two supervisors who once worked in the 39th, two officers in the 25th District, and seven more officers four from the 39th and three from the Highway Patrol. The first of hundreds of lawsuits was filed by three victims of the Philly police recently. Their lawyer stated that an estimated 5,000 others were falsely arrested or abused by Philadelphia police. The suit was filed in federal court as a class action on behalf of anyone who has been falsely arrested, robbed, beaten or denied due process of law by police in the 39th and the 1st Districts. Defendants include the city, the Mayor, the Police Commissioner, former Philadelphia Police Commissioner Willie Williams, now chief of the L.A.P.D., the six former 39th District officers who have pleaded guilty, more than 20 named and unnamed officers from the 1st District, and the commander of the Internal Affairs unit. The allegations include racketeering, excessive force, false arrest and other constitutional violations.
"Thousands of Philadelphians have been beaten, arrested, imprisoned and had their civil and constitutional rights violated," the suit states. Aaron Holbrook, 21, states in his suit that he was beaten, stomped and knocked unconscious by 21 police officers in the 1st Police District. He also claims that police inside the 1st District Station urinated on him and threw away his clothing. He suffered bruises, mental anguish, internal and external bleeding. Saul Williams, 18, says he was beaten by five 1st District officers on August 11. The district attorney's office was warned about this pattern of activity by public defenders and private attorneys for at least five years without altering their practices.
KILLER COPS
Some of the most egregious disclosures of police criminality recently have come in New York City and in New Orleans. In NY's Harlem precinct, a ring of 33 drug-dealing cops was uncovered. One ex-cop was recently sentenced to a year in prison for extortion, for taking payoffs from pushers. The chief of detectives in Brooklyn and the NYC police commissioner are being sued for sexual harassment, along with half a dozen Queens detectives, by a female lieutenant and a woman detective who were subjected to a rumor campaign of being lesbians and given involuntary transfers. And in New Orleans, police have been found guilty of numerous crimes in the past several months. One New Orleans cop apparently arranged the contract killing of a woman who had brought a complaint against him. Another is under suspicion for two murders of Black women which authorities believe are part of a string of more than 20 such serial killings which had gone virtually uninvestigated, because the victims were poor Black women, often prostitutes. Since 1992, more than 30 cops have been arrested in New Orleans, four of them for murder. In Chicago, federal agents are seeking a cop involved with a multi-million dollar narcotics ring. In New Jersey, an ex-cop from Teaneck whose killing of a Latino teen set off rioting last year, and an ex-INS agent who was disciplined for violating the rights of Latino shopkeepers in Manhattan (but pardoned by Bush just before he left office) have hooked up to work on a magazine called "Wanted" directed at law enforcement personnel. The ex-INS agent now runs an agency devoted to defending cops who get in trouble with the law.
Similar problems are common in the southeast. In Loudon County, VA, the sheriff is under investigation for diverting county resources and armored vehicles to a private para-military security force called ARGUS. Sheriff Isom is a vice-president of ARGUS, and one of his deputies moonlights as an officer for the group, set up by a local millionaire. It has also obtained surplus military equipment, storage space at a military base, and staffing from the Federal Protective Service, one of whose employees is ARGUS's training director. In Prince William County, outside Washington D.C., the NAACP has charged the Dumfries police with racist brutality after Rev. George Walker was beaten with batons and maced outside his home in August by seven police, when he tried to talk to them about a traffic stop they were carrying out. The highest ranking cop at the University of the District of Columbia has been found liable for the second time in 8 years of sexual harassment of female officers under his command. In nearby Prince Georges County, the FBI arrested 5 white cops this summer for the beating of a Black suspect in a cop killing who was later exonerated. That incident, along with the ostracism of a Black officer who testified against three other white officers who were sent to prison for beating a handcuffed burglary suspect, has increased tensions between white and Black cops on the force.
COPS AND THE KLAN
We must seize the opportunity provided also by recent disclosures of FBI criminality, such as at Ruby Ridge, and the evidence of blatant white supremacist beliefs and networks, such as the Good Ol' Boys Roundup, where videotapes apparently taken by a Florida cop attendee, an advocate of David Duke's National Association for the Advancement of White People, showed racist signs and t-shirts with such logos as Martin Luther King in cross-hairs. The tapes were released to the media by a member of the Gadsden Militia seeking to embarrass the ATF — definitely a case of "a plague on both your houses," as the militia man was represented by Kirk Lyons, the principal legal adviser to the Klan and the Aryan Nations. Lyons has raised funds for Tom Metzger's defense and heads the white supremacist group CAUSE (Canada Australia Unites States South Africa Europe — the "homelands" of the white race). In another recent disclosure, two Texas Rangers were disciplined, after they were overheard by a neighbor referring in a threatening way to the only Black female member of the agency with racially and sexually derogatory slurs. The role of numerous sheriffs and law enforcement personnel in supporting the anti-democratic militia movement, and the efforts of organized racist groupings to win adherents among active-duty police must also be opposed. Jack McLamb's Christian Identity influenced "Police Against the New World Order," which spreads the anti-semitic teachings of Eustace Mullins, is a good case in point.
The problems of police racism, brutality and criminality are mainly being taken up in a piece-meal and localized fashion. In New York, they're viewed in the mainstream media cynically as a manifestation of endemic corruption; in Philadelphia as an embarrassment that unfortunately gives credence to the charges of a frame-up of Mumia Abu-Jamal; in L.A. as a sideshow in the circus of the O.J. Simpson trial. In fact, the problems and their solution are global, because policing in this country has always been rooted in the economic and relations of white supremacy, colonialism, and capitalism.
The widespread and ugly nature of these cases of cop criminality and racism provide an unparalleled opportunity for a national campaign to challenge police impunity, and to establish community control of the police so as to insure police accountability. Fortuitously, the National Coalition on Police Accountability (N-COPA) is holding its national conference on October 27-29 in Chicago IL. This is a tremendous opportunity for activists and concerned people from around the country to gather, share their experiences and lessons from local struggles, and map out a national strategy for bringing this issue to the forefront of political struggle and debate in this country. The conference is being coordinated with a Tribunal on Police Misconduct the day before, convened by the National Black Police Association and co-sponsored by N-COPA. tribunal testimony and judge's findings will be delivered to the United Nations Commission on Human Rights. For more information on the Tribunal, contact Ron Hampton, 202-986-2070; N-COPA is a project of Citizens Alert, 59 E. Van Buren #2418, Chicago IL 60605; tel. 312- 663-5392.
COMMUNITY CONTROL OF POLICE
The first police departments were established post-Civil War, when the abolition of slavery and the development of industrialization meant there were massive laboring populations that could no longer be disciplined by the slave-owner or individual task-master, but had to be supervised, as an industrial army, by a well-armed institutionalized force. The police grew out of the slave posses that tracked runaway slaves, the militias that met Native resistance with force of arms, the rangers who enforced U.S. control of Mexicans in the captured territories. They were augmented by the private armies of the steel, oil, coal and railroad magnates, the robber barons. As they have been professionalized, militarized and centralized increasingly in this century, their ranks filled in recent years by veterans of Vietnam and Desert Storm, this has not served to overturn or transform this history of colonialism, but to deepen the cops' role as an occupying army, complete with HUEYs, armored personnel carriers, and high-tech weapons.
This is the reality that defines the efforts of the most well-meaning officers; the soil that nurtures the racism and corruption of the worst. This is the reality that impels the "us-against-them" mentality of cops, that produces the code of silence which allows racist offenders to go unpunished, in fact promoted for their crimes. Officers truly concerned about being improperly "lumped" with the Fuhrmans need to break ranks with the reactionary solidarity of silence that enables the racists; more, they need to break with the mission of upholding laws that propagate injustice. Of course, there have been some changes with the hiring of more women and minority officers — that's one of the main reasons for the attack on affirmative action regulations which mandated such hiring — but without fundamental changes, such officers are simply old wine in new bottles.
Without fundamental change, cosmetic reforms serve to deepen the problem, as the Christopher Commission did in L.A. Exposing the racism and sexism of police operations by releasing the text of mobile digital transmissions of L.A. cops on their squad car consoles, the Commission did little more than clean up the language and tighten the supervision of the transmissions, so there's no paper trail. The underlying problems the transmissions reflect are untouched. Thirty-four of the 44 "problem officers" the Commission identified are still on the force; because the problem is not individual, it is institutionalized.
And what of the recommendation for community-based policing as the solution? In fact, it's part of the problem. Bush's Weed and Seed program and Clinton's Crime Bill, adopted this as a mechanism for placing some social service programs under the control of the Justice Department and local police agencies, as a carrot to offer while strengthening the stick. In the May 1995 issue of "Law and Order," a trade journal for the police, a leading proponent of community based policing explains what it's really about: "The military calls changing an enemy's or a population's thoughts 'Psychological Operations' or 'PSYOPS.' Community Oriented Policing does the same thing." In other words, it is not the antidote to the militarization of the police, but a manifestation of it; a neo-colonial mechanism to maintain control over a colonized population or "enemy."
And this should not be surprising, given the history of Christopher in particular, and the economic interests and backgrounds of most of his commissioners. Christopher was vice-chair of the 1965 commission headed by former CIA chief John McCone that tried to shape a counter-insurgency response to the Watts Rebellion. In Johnson's Justice Department, he was involved in the suppression of the Black rebellions in Chicago and Detroit in 1968 after the assassination of Martin Luther King, coordinating the use of the Army in domestic war against the rebels. He approved the use of military intelligence against anti-war protesters at the 1968 Democratic convention . In Carter's state department, according to researcher Fara Mansoor, he approved secret briefings to Khomeini as an anti-communist fall-back in case the Shah toppled. Now, he wants to fashion a repressive neo-colonial solution to the "problem" of the Palestinians. His proposals in L.A. grew out of this pattern of elite guidelines for "enlightened"repression.
But if the Christopher proposals are not the answer, what is? The Black Panther Party put forward a proposal in the 70's, resurrected in the 90's in L.A., and derailed by the Christopher report. That program is community control of the police. As put forward by the Coalition Against Police Abuse in L.A., the plan has two key components: elected commissioners from each community being policed, able to hire and fire administrators and hold officers accountable; and a special prosecutor, designated to deal exclusively with issues of police criminality and brutality. The latter is essential because district attorneys can't bring police criminals to justice because of the symbiotic dependency between cops and prosecutors.
"Community Oriented Policing" in fact creates false communities that are centered on the policing function; "Community Control of Police," perhaps including the break-up of bureaucratically centralized departments into many smaller, community-run departments whose officers must live in the communities they patrol, would empower real communities of oppressed people. It would not overturn all the relations of racial and economic exploitation that govern our society; but it is a radical democratic reform that would strengthen the forces of liberation and circumscribe the forces of repression.