Vol. 5, #5 – Sept.-October 1992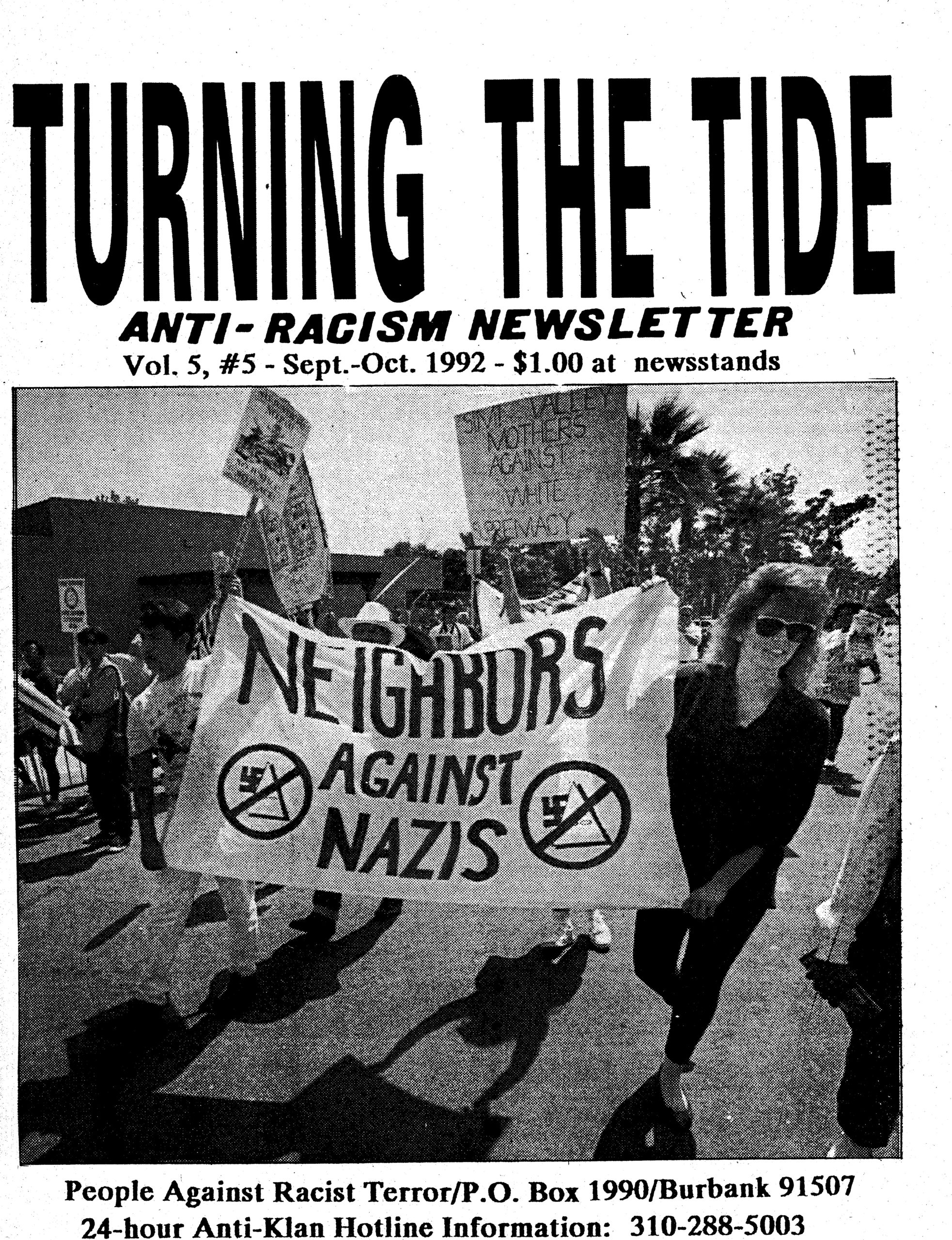 Neighbors Against Nazis – Simi Valley
Almost 500 people came out on Saturday, Sept. 12, to protest a second appearance in Simi Valley, CA by white supremacist Richard Barrett, head of the Mississippi based Nationalist Movement. Barrett, who had drawn eight people in June, only had one supporter. Surrounded by several hundred Simi Valley police and Ventura County sheriff's deputies, he spoke exclusively to the media while hundreds of people, mostly local residents picketed and jeered outside a fence installed for the occasion around the Simi Valley courthouse. Towards the end of the counter-demonstration, police provoked the crowd by sending in dogs and horses. One woman was bitten and several Simi Valley teenagers were arrested. Most of the media attention focused on the arrests and on Barrett himself, rather than the significance of such a large manifestation against racism and nazism.
The day's events began with an anti-racist rally organized by Neighbors Against Nazis, a coalition based in Simi and including Mothers Against Supremacists, the Simi-Conejo and San Fernando Valley chapters of NOW, NAACP, ACTUP Ventura, and many concerned people from Simi and Ventura, as well as PART, L.A. Radical Women and the Freedom Socialist Party. More than 200 people gathered starting at 10:00 AM for a press conference and open mike rally, featuring speakers from groups in the coalition as well as local Black residents of Simi Valley, a rabbi from a nearby synagogue, the Chicano Moratorium, and others. The common theme was that Barrett must not spread his racist views unchallenged. Michael Novick of PART pointed out Barrett's history of association with violence and naked racism (see last issue of TTT).
When Barrett was brought in an armored car to the nearby court-house to begin his "rally" with his single follower, Jim Jones of L.A., Neighbors Against Nazis ended its rally and marched to the courthouse, drawing support from passing cars. By the time we arrived, the counter-demonstration had doubled in size, as many local residents came out to indicate their opposition to Barrett, along with contingents organized by InCAR and by the RCP. People picketed peacefully for more than two hours while Barrett, guarded by the fence and the police, spewed his hate (in carefully sanitized form, draped in the flag and patriotism) to the assembled media. All the TV stations devoted a substantial segment of their coverage to Barrett's propaganda. Even while commenting on his success in getting the media attention he wanted, TV allowed Barrett to put out his anti-immigrant and anti-Black propaganda, and to present himself as a patriot. None of the stations exposed Barrett's links to nazi skinheads, his para-military training camp in Mississippi, or his recent foray to the border in San Diego, where Mexicano migrant workers were stoned by his nazi-skin followers.
With no warning, as Neighbors Against Nazis was ending its picket line, planning to return to the park for a closing rally, the police moved in, claiming a Black teenager had thrown a rock. Many people, who had been reluctant to end the picketing, surged forward. The police over-reacted, moving in on horse-back. The police set their dogs on people, and when the crowd at one point surrounded two cops trying to arrest a young man who had shouted at them, the cops viciously swung their billy clubs in a circle. A second phalanx of police then broke into the crowd, sweeping out the two cops and their victim. Several people suffered minor injuries and one woman was bitten and cut by a dog. Despite the arrests, the crowd remained generally peaceful throughout. Most people felt the so-called "violence" was entirely initiated and carried out by the police themselves.
At a City Council meeting the following Monday night, several representatives of Neighbors Against Nazis, as well as parents of some of the youths arrested or attacked by the police, complained of the mishandling of the situation and the aggressive role of the police. The City Council, already embarrassed by exposure of a demonstration ordinance passed over community opposition, which appeared directed mainly at the counter-demonstration, agreed to carry out an investigation of the police behavior at the rally.
Neighbors Against Nazis expects to continue its work on a pro-active basis to oppose racism and police brutality in Simi Valley, Ventura County and throughout the area. They are participating along with I-CARE (see story on Aryan Fest) in an anti-bigotry action network initiated by PART. To contact Neighbors Against Nazis, call (805) 583 – 1213.